Some time ago, I already showed a preview of the China glaze fall 2021 collection (and the Halloween collection). Today it's time for swatches of the Fall 2021 collection called 'Autumn spice'. I think the last time I picked up a new China glaze collection must have been in 2014. The website I used to buy them at stopped. After this, in the Netherlands new collections were very difficult to obtain.
The collection consists of six new shades, and in my opinion, this collection is the definition of fall! The names are all extremely cute, and the colors just scream fall. Let's just get into the swatches!
China glaze Loves you a latte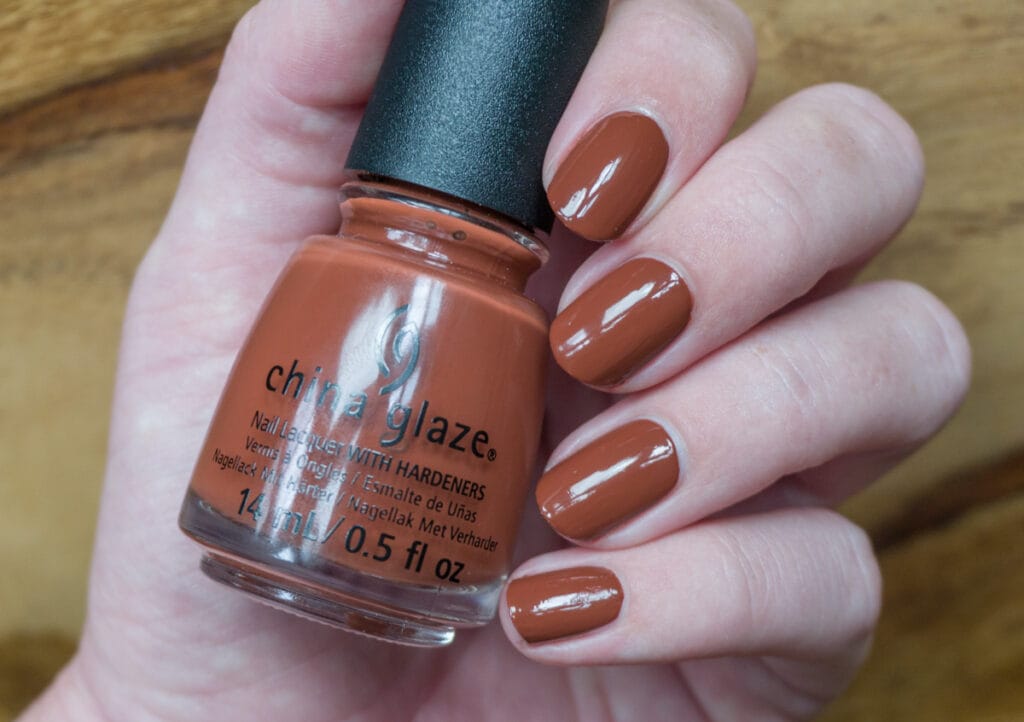 Loves you a latte is a medium brown that leans a bit orange. I have the feeling that we have seen this type of shade before the last seasons (especially since OPI's Malibu collection contained so many browns). This one covered nicely in two coats, and has a good formula. If you're looking for a nice, warm brown that's not too expensive, then Loves you a latte is a great option, but it's not the most groundbreaking shade in this collection.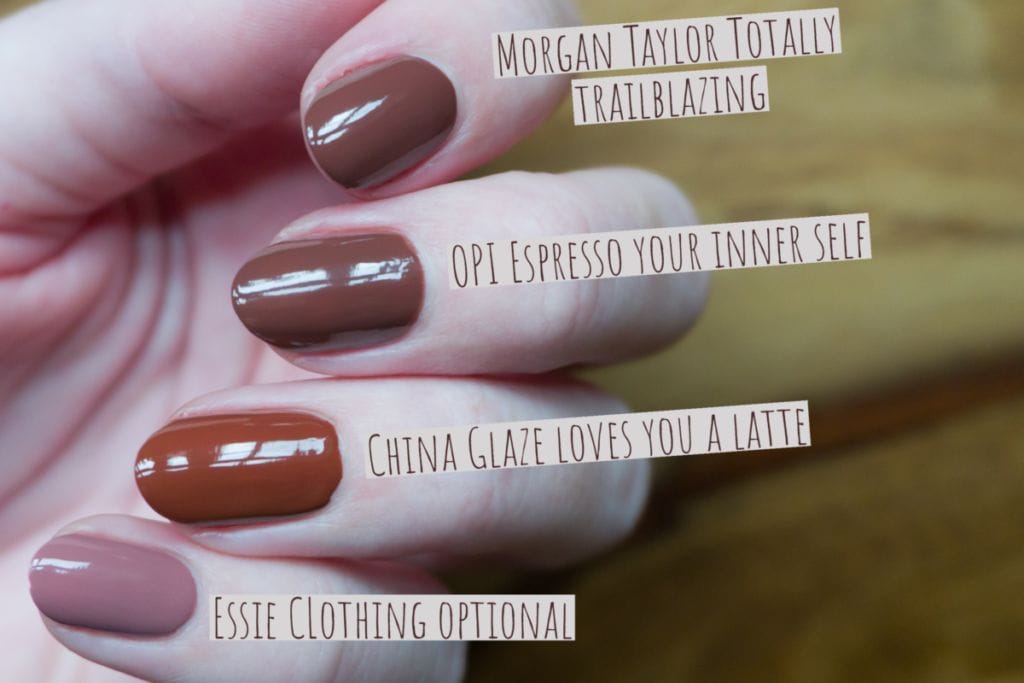 I thought Morgan Taylor totrally trailblazing and OPI Espresso your inner self would be close to China glaze loves you a latte, but they are both cooler-toned. Essie's Clothing optional is much lighter and more pink than Loves you a latte.
China glaze Autumns up!
"Autumns up!" is a gorgeous yellow creme. It is bright, but it also has some grey/brown in it, making it perfect for fall. It even covers nicely in two coats. I don't think I have this type of yellow in my collection, but there are probably shades out there that are similar. During autumn, I always fall in love with these types of shades, so of course, I love "Autumns up!"!
China glaze Love 'em and leaves 'em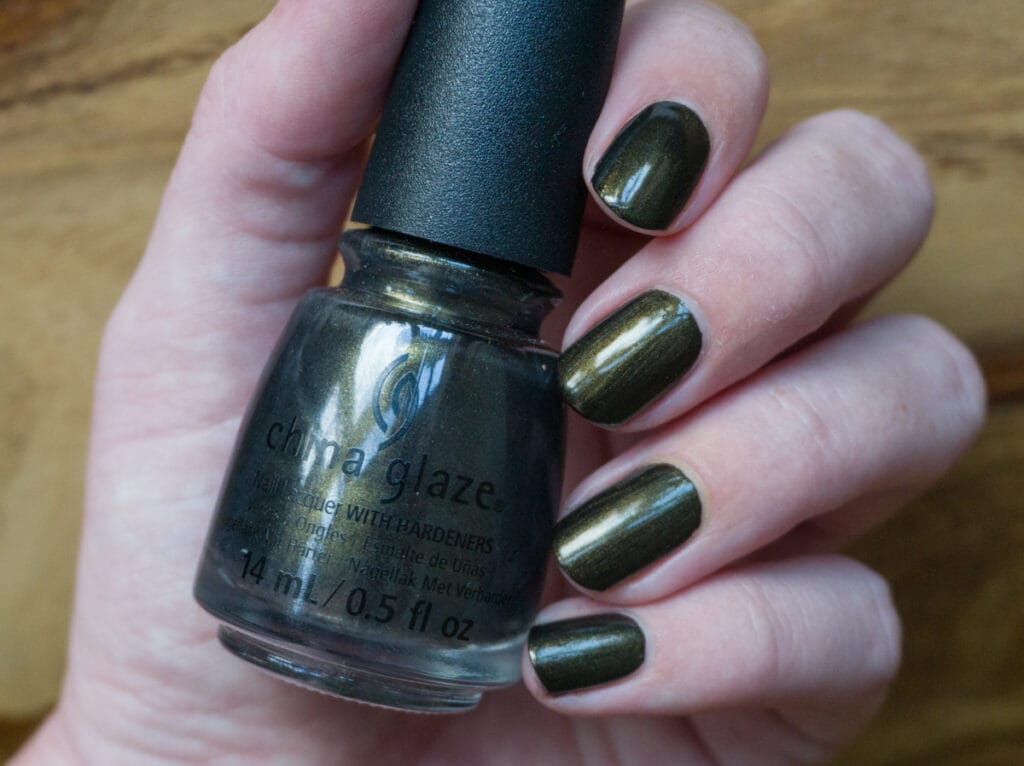 Love 'em and leaves 'em is a dark green with gold/green shimmer. It reminds me a lot of Essie's new High voltage vinyl. I noticed that the formula of love 'em and leaves 'em was a little bit thicker than the other shades in this collection. The polish was still easy to work with though. It was opaque in one coat, but I did two coats in the pictures for more depth.
China glaze The snuggle is real
The snuggle is real is a neutral light brown creme. On Instagram, this shade looked awesome on the nails of other people, but with my skin tone, it looks a bit weird. The color doesn't lean too orange or too pink, so I would say that in general, it will fit a lot of people. The color only took two coats for full opacity, so if you like this color, this is a great option.
China glaze Spice to meet you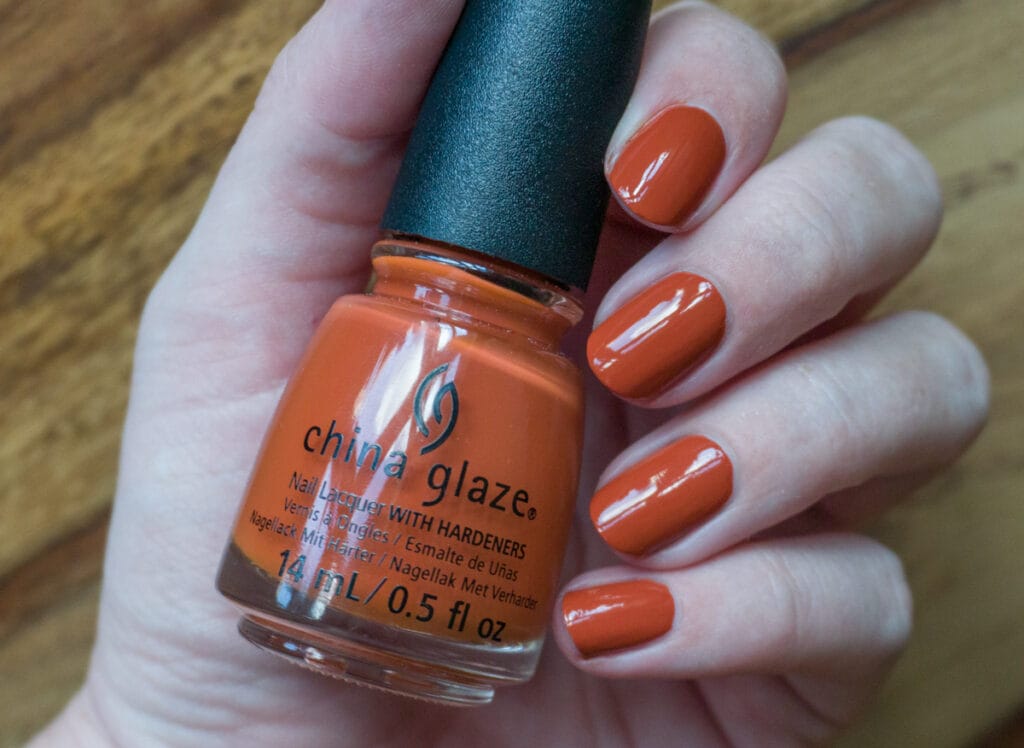 Spice to meet you is a burnt orange creme. At the first coat it looks very bright orange, but at the second coat you will get what you see here. This is just he perfect pumpkin color, and I can't wait to wear it when the temperature gets a bit colder!
I pulled out all my burnt orange shades for this comparison. China glaze "Spice to meet you" is just a little different than all of them. "My Italian is a little rusty" is browner. "Have your panettone and eat it too" is slightly lighter and brighter, but probably the closest out of the colors. Essie's "playing koi" is darker and redder (but still one of my favorite burnt oranges).
China glaze Modern auburn
Modern Auburn is your typical classic fall red. Call me basic, but I love these types of red during fall and winter. This particular shade covers nicely in two coats and has a very easy formula to work with. It also perfectly fits into this collection. I'm pretty sure that I will reach for this color a lot!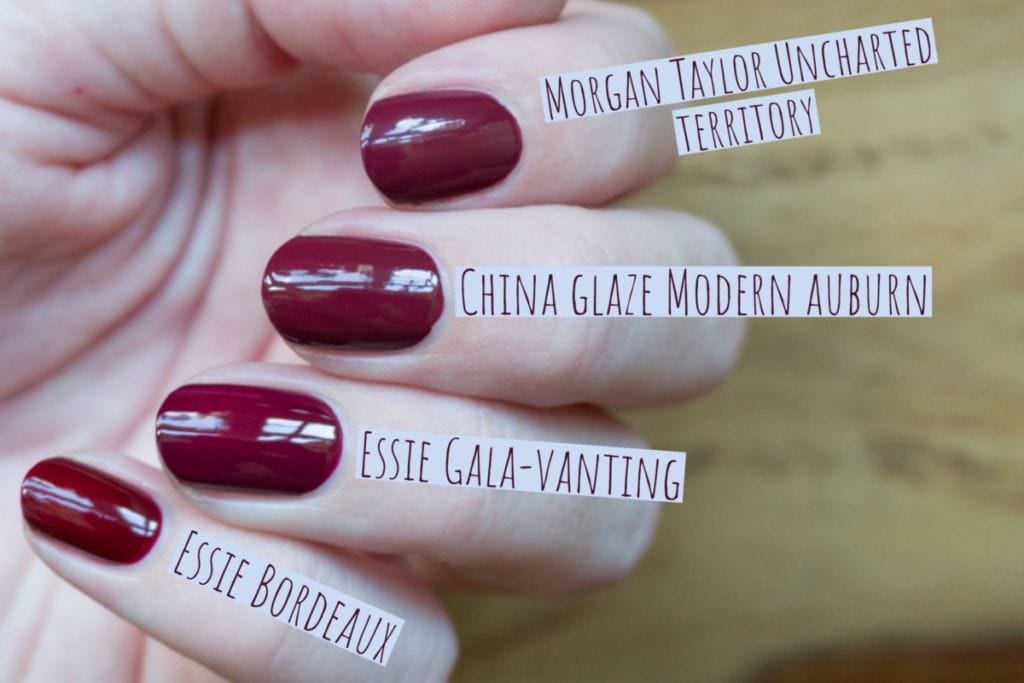 As you can see, I definitely need to stop purchasing this color. There are a few subtle differences that are a bit difficult to see in this picture. I would say that China Glaze Modern Auburn and Morgan Taylor Uncharted territory are extremely close, they both seem to contain a few drops of brown. Essie Gala-vanting seems to be missing those brown undertones. Essie's bordeaux leans a bit redder (it lacks the pinkish undertones).
Conclusion
If it wasn't clear: I love this complete collection. Honestly, I could have lived without the browns, but it fits the theme. The other shades are just perfection in my opinion and I kind of wish that more brands would have used this color scheme this fall! All shades cover in two coats, which is also a big plus!
In Europe, new China glaze collections are a bit difficult to find at the moment, I picked them up myself from Polishpick, and I'm very happy with the experience I had there! After two weeks I received the collection, which is quite impressive, considering it had to travel to the other side of the world.
If you live in the US, the 'Autumn Spice' collection should be easy to find. It is available over here on Amazon (affiliate link), over here on Beyond Polish (affiliate link), or you can also order it from Polish pick. I happen to know that this collection is quite popular, so be sure to grab it while it is still in stock!
Disclosure: This post contains affiliate links, meaning that if you buy a product through one of these links, I might receive compensation at no additional cost to you. I label all affiliate links with the label "affiliate link" in the remainder of this article. As an Amazon Associate, I earn from qualifying purchases.