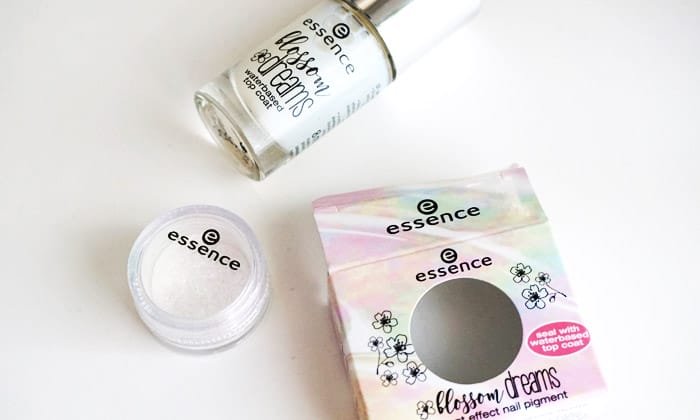 Did I tell you Essence is doing great lately? About a million times already? Oh ok.. But they really are! When I saw their latest Limited Edition, Blossom dreams, my heart skipped a beat. It contains nail pigments and a water based topcoat! I knew Essence always followed trends closely, but this is really amazing! They have two kinds of different pigment: one with mirror effect, and one with iridescent effect. I only got the last one, because the mirror effect one was already sold out. The waterbased top coat is great, because normally, nail pigments only work with gel polish, and not with normal polish, but with a waterbased polish, you can use it with any polish you like!
The steps to work with the pigment are on the box and say:
Apply nail polish and allow to dry (1-2 minutes)
Once the nail polish has dried, using a finger, very softly rub a small quantity of the pigment onto the nails. Continue to rub until a smooth surface is achieved.
Seal using "Essence waterbased topcoats"
I noticed that is is kind of hard to determine when the polish is dry enough to apply the pigment. It needs to be a little bit sticky, but you don't want it to smudge ( like happened to my ringfinger), 1-2 minutes is probably a little but too short. I think it is easiest to use a one coater when working with the pigment. When you've applied the waterbased top coat over the pigment, you are going to want to wash your hands immediately, because the powder gets everywhere. But DON'T! As long as the top coat is slightly wet, it will dissolve in water and your nails will be ruined (trust me, I've tried it ;). When it is completely dry, it is no problem however!
After experimenting with this type of powders a bit more I actually came up with a better way to apply it than Essence's method:
Apply basecoat+a color+a topcoat like you normally would.
Let this dry completely.
Apply a ruberized basecoat (like Orly Bonder) over the topcoat.
Let this dry again.
You can apply the powder now by rubbing it. You don't need to be as careful anymore as with the other method!
Apply a waterbased topcoat.
Optional: when the water based topcoat is completely dry you can apply a regular topcoat. The finish will be must shinier.
This method is smudge proof and will lead to much better results.
I'm wearing the pigment rosy reflections in the picture above, using the first method. I think it looks gorgeous over dark polishes, giving them an intense pink flash. It also looks fine over lighter shades, although it is more subtle.
What I was actually most curious about, was if the waterbased top coat would work with my Dance Legend Mirage powder (holographic powder!). So far, it had only worked with gel polish. I have tried it with normal polish, but a regular top coat ruins it completely. I followed the same steps as described above, but instead of a regular nail polish I just applied a clear base coat. And it works! How amazing! I was afraid that the holographic effect would be less than with gel polish, but I actually think it is the same.
The only downside that I noticed, is that you can really see every imperfection. Every ridge in my nail showed up and every tiniest bubble looks like crater. It is probably best to use a ridge filling base coat next time. However, I don't really care, because I'm so in love with the effect! If you don't like gel polish (like me), a waterbased top coat is really a great alternative!
I'm often not really excited about Essence Limited editions, but this time, I really am! I'm quite sad that I couldn't find the mirror effect pigment, because I would have loved to try that one. I really really really hope that Essence releases more pigments and just keeps the waterbased top coat in their permanent collection.
I've bought the the waterbased top coat and pigments in my local drugstore. 
Update August 2020: I know a lot of you are still interested in water based top coat for your nail powder. Unfortunately this Essence topcoat is no longer available. Catrice (Essence's sister brand) did have it in their permanent collection for a while, but it is discontinued too. If you are still looking for a water based topcoat you might want to check out Maniology Water based no smudge topcoat (affiliate link to Amazon, nail art enthousiast might know this brand as Bundle monster). Unfortunately I cannot test this topcoat myself since it is not shipped to Europe, but I think it has the same qualities (and downsides) as the Essence water based topcoat and it is not that expensive.
Update October 2020: I just found out that the Essence water based topcoat is still being sold on German Amazon over here (affiliate link). Also the version of Catrice is still available over here on German Amazon (affiliate link). I couldn't find the Essence iridescent nail powder, but I did find a similar Catrice set on German Amazon over here (affiliate link). I also own this set (but I never reviewed it), it is basically the same as the Essence powder and water based topcoat as reviewed in this post.
This post contains affiliate links. As an Amazon Associate I earn from qualifying purchases. I bought all these products myself.