Sometimes you just come across a polish that makes you so enthousiastic that you want to take off the nail polish you're currently wearing and apply the new one instead. I've had that with Essie Say it ain't Soho. A couple of weeks ago I found it in at my local Tk Maxx for a very nice price and I couldn't wait to wear it.
To refresh your memory a bit: Say it ain't Soho is from Essie's Fall 2018 collection which was a New York inspired collection. It is a very rich orange metallic. The formula is really amazing, it was almost opaque in one coat, so I guess it will be great for stamping. Say it ain't Soho is only a tiny bit streaky, which is really amazing for a metallic. The color is so rich that almost makes my hands look pale. I still love the color, but I think this shade will look better on people that are not as pale as I am. Nevertheless I am enjoying it, the shimmer is so pretty!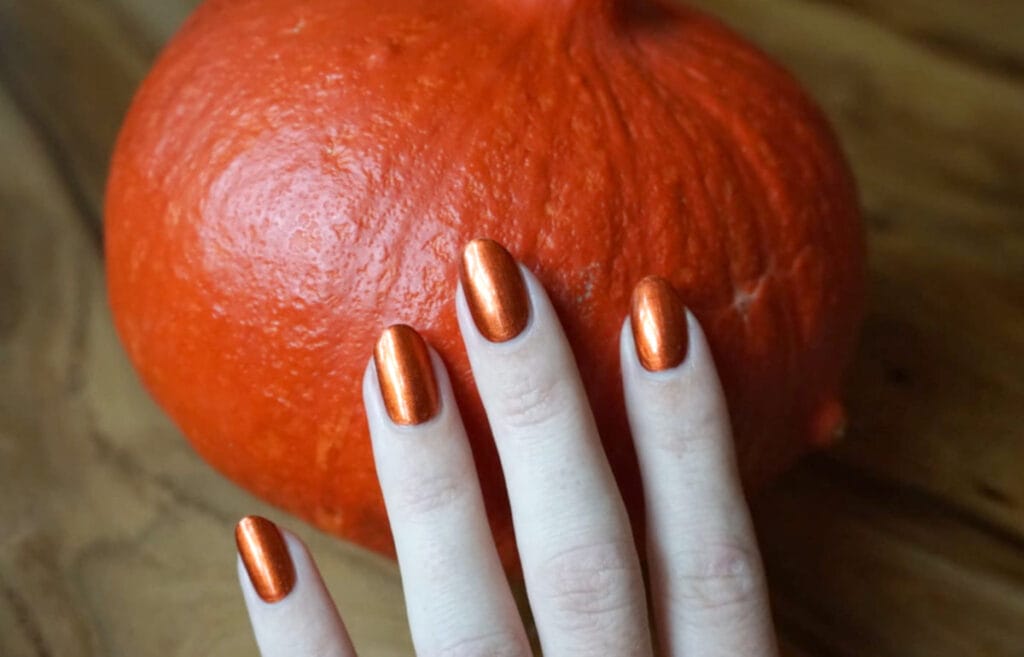 I've been trying to dig into my memory and have been trying to find out why I didn't pick up this shade one or two years ago. I know I knew it existed and that I liked it. I remember it being sold out in some stores, so maybe that's the reason I never bought it. If I can be honest, I think I like the 2018 and 2019 Essie fall collections better than the Essie Fall 2020 collection. I have the shade Sweater weather (basically the green version of Say it ain't Soho) already on my pinterest board for such a long time! Maybe it is finally time to pick that one up too. Anyway, I can't think of a color that is better suited for Fall than Say it ain't SoHo.
You might get lucky and find Say it ain't Soho somewhere in a discount section, however you can also check it out over here on Amazon (affiliate link). I know I should have bought this shade sooner! Needless to say, I don't own any other polish that even comes close to this shade.