There is a new Essie collection in town for spring 2022 called 'Swoon in the lagoon'. I was not prepared to be writing this post right now. I do expect Essie collections to be released early, but November for a spring collection is even early for me.
The only website I found these shades on so far, is Ulta. So I am just going to repeat what they have to say about the collection. In the US, this is going to be a nine-piece collection consisting of the following shades:
Essie Natural connection (A khaki green crème)
Essie Day Drift away (soft pink creme with neutral undertones)
Essie Boatloads of love (Off-white with refined blue pearl shimmer)
Essie All oar nothing (A yellow creme)
Essie Frilly lillies (medium orange creme)
Essie Willow in the wind (Vibrant green creme with yellow undertones)
Essie Ripple reflect (Cornflower blue creme with red undertones)
Essie Row with the flow (Warm brown creme with red undertones)
Essie Swoon in the lagoon (mid tone magenta creme with blue undertones)
If you're living outside the US: similar to Essie's 'Not red-y for bed' collection, I expect that only six shades will be released, but it's not confirmed yet.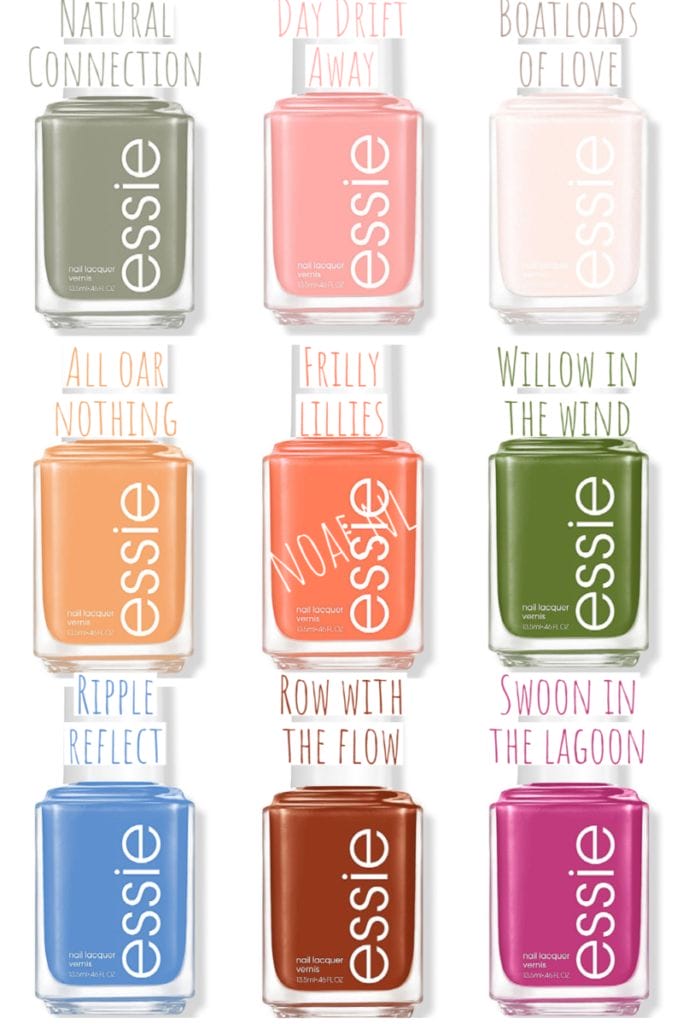 I'm always thrilled when a new Essie collection is released, so of course, I am now as well. I try to be not super excited since I'm never sure which shades will arrive in Europe. Also, these promo-pictures are not always a good representation of the actual shades, so I'm a bit careful with my conclusions. I definitely can't wait to see swatches!
Availability
If you're wondering when this collection will be released in your country, my advice would be to look at 2021's 'Not red-y for bed' collection or 2020's 'Flying solo' collection. This will probably indicate the time at which 'Swoon in the lagoon' will be available too. If you're living in the US, you can also use this as a rule of thumb for when this collection will be available in other places than Ulta.
Update: I found the collection also over here on Amazon US (affiliate link).
Disclaimer: As an Amazon Associate, I earn from qualifying purchases.