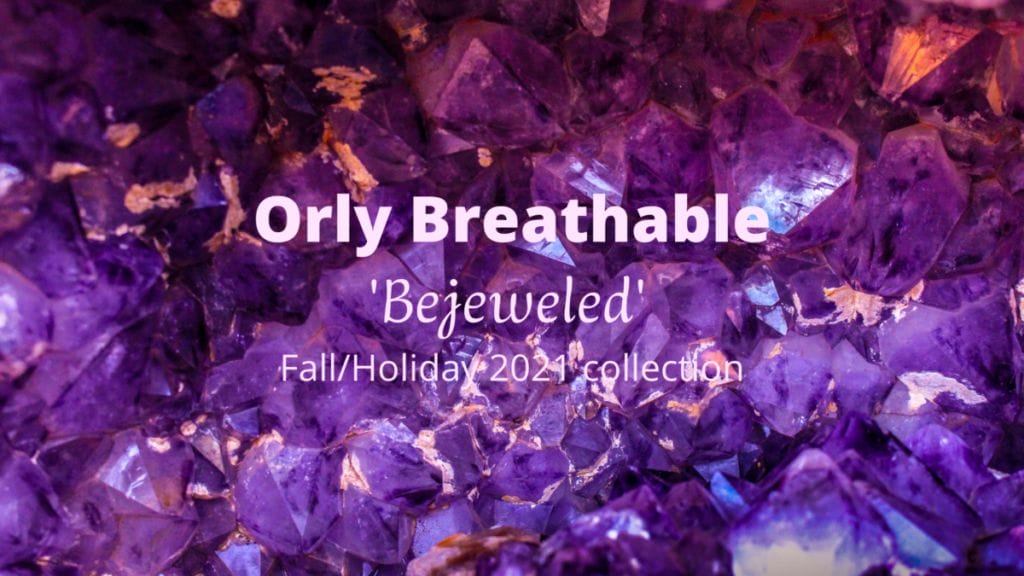 When you think you have had all Fall and Holiday 2021 collections… still other collections show up! Today it is time for Orly's Breathable Bejeweled collection. From what I can tell this is the joined fall, winter, and holiday collection for 2021. I think Orly's plan is to release fewer collections of the breathable line, that's why it's a joined collection.
The collection consists of six new shades, the shades are all inspired by gemstones. The names are:
Over the topaz ( bronze rose shimmer)
You're on sapphire ( cobalt blue shimmer)
This took a tourmaline (deep fuchsia creme)
Do a beryl roll (emerald green shimmer)
Alexandrite by you ( bright violet shimmer)
Don't take me for garnet (rich deep plum shimmer for garnet)
Maybe needless to say, but I really like this collection, from the whole theme to the colors! Only the red crème is maybe a bit boring, but OK it is a holiday collection after all, so I forgive you, Orly. The other shades all look super interesting! On the Orly website over here are also videos with swatches. More brands should do that!
Availability
So far, I have only seen the Bejeweled collection over here on the Orly website (US only) and over here on the Douglas NL website (NL and BE only). I haven't seen them anywhere else yet, but of course, I will keep you posted when things change!