If you follow me on instagram, you probably already have seen this polish. I'm talking about ILNP – Mona Lisa. It's from last years Fall collection and I've bought it this Spring. Of course, it didn't take me too long to wear it. But I'm now wearing it a second time. Just because I can!
Mona Lisa is a brown colored nail polish with tons of holographic sparkle. It's actually quite hard to see the base color, because there are always some rainbows. Because of this it kind of has a silver glow, which I actually really like with this polish. The holographic effect in this one is super strong! I'm definitely blown away and it's probably the reason why I'm already wearing this for a second time!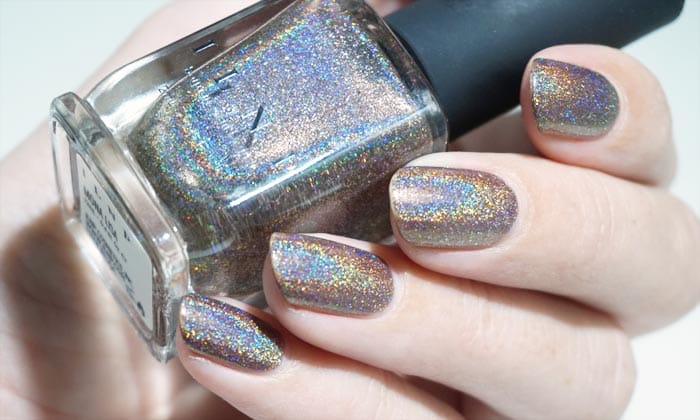 Although the Mona Lisa (the painting) doesn't have any holographic sparkle, I find Mona Lisa a fitting name for this polish. It has brown colors and a kind of mystery surrounding it. The formula of Mona Lisa is also perfect. It's not as sheer as some of the ILNP holographic polishes I own, but it covers nicely in two coats. I would call the holographic effect linear, but is not very dense. It's a little bit sparser than most holographic polishes, but I wouldn't call it scattered.
Do I recommend Mona Lisa? Yes definitely! If your looking for a neutral holographic polish, this is definitely the one that you are looking for. ILNP released some more neutral holographics this Fall, but I do not think any of those are as strong as this one. However, I do not own those so it's just the feeling I get from pictures. Another reason to buy this shade is that I truly believe, that this color looks great on everyone!
You can buy Mona Lisa at the website of ILNP itself or one of their stockists. I personally always buy mine at Hypnotic Polish, which is a stockist based in the Netherlands. They also carry a lot of other indie brands, so it's definitely worth to check them out.
What do you think about a holographic neutral, yes or no?