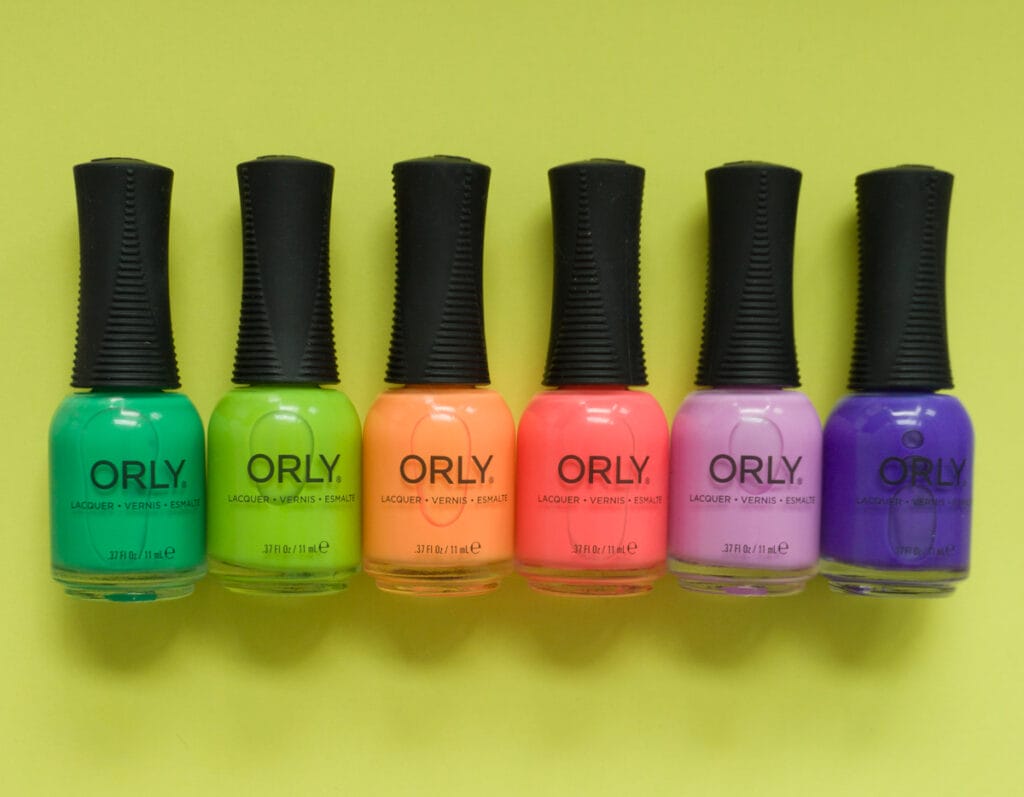 Now that Orly's new Fall 2021 is announced, it feels a bit weird to be sharing the Orly Summer 2021 collection with you. As I've said before, the Orly color pass is not available in the Netherlands, so I'm always a bit slower than US-based swatchers when it comes to sharing Orly nail polish. Anyway, the Orly Electric Escape collection is gorgeous and is absolutely still worth sharing. I also bought the Essie Have a ball collection this week, so I put in comparisons.
Orly Plastic Jungle
Orly Plastic Jungle is a kelly green crème. It was very hard to photograph this shade, since it tends to lean blue in pictures. When I saw the shade in person, I was shocked that it looked so different from the pictures I had seen online. Also, my picture is not 100 percent accurate, so be aware of that. Plastic Jungle is probably as close as you can get to a medium neon green. I had to use three coats for complete coverage since I still saw some bald spots with two coats, however, some of my followers on Instagram mentioned that they only had to use two coats. It pretty much depends on your own application!
I think this comparison clearly shows that Orly Plastic Jungle is a unique shade. I usually find Essie On the roadie and Essie Feelin' just lime quite bright, but compared to Plastic jungle they just look a bit greyed out.
Orly Artificial Orange
Artificial orange is so awesome! When I saw Artificial orange first in the bottle, I didn't really understand why it was called "orange", since it looked more like a coral pink to me. When I applied it to the nail, it indeed started to lean more orange. I already own quite a few of these types of coral neon polishes. But this one applied really easily in two coats, and normally these types of neons can be quite challenging. I feel like Artificial orange might also be one of the brighter neon shades in this collection.
Orly beach cruiser, China glaze thistle do nicely and China glaze Pool party are definitely among my favorite neon shades ever. Artificial orange fits right in! Artificial orange is more orange than the other shades shown above, but it is difficult to see in my picture (I'm sorry, neons are challenging to photograph!). Thistle do nicely is probably closest to Artificial orange, although Thistle do nicely is pinker. I do think that the formula and application of Artificial orange is much better than the China glaze shades.
Orly Neon paradise
On Instagram, I already heard that Neon paradise was one of the sheerer shades in the collection. Most people said it covered completely in three coats. For me, when I had applied three coats, I still saw patchiness, so I ended up doing four. Maybe if you're using thicker coats than me, or when you're less perfectionistic you're going to be able to get away with three. But honestly? Even with four coats, this polish is worth it! It is such a bright and happy color! I did sadly see some tiny bubbles in this polish, and again, on Instagram, I found out I wasn't the only one! I tried applying this shade over a white basecoat too, it definitely makes it look even more bright, but I still had to use a lot of coats to make it completely opaque.
I definitely expected Essie "Vices versa" and Orly "Neon paradise" to be closer than they are. They do both have the same formula: sheer and opaque in four coats. Neon paradise leans more yellow and more pastel.
Orly Kaleidoscope eyes
When I was reading reviews about this collection myself, Kaleidoscope eyes was always mentioned as a favorite/Musthave. When I first saw the bottle, I didn't really understand why. Sure it was a nice purple color, but nothing special. Once I applied it to my nails I completely changed my mind. It's not that the color changes significantly or anything, but it is just such an awesome color to wear on your nails! The formula was super easy to work with, but it took me three coats to reach complete opacity. I'm not sure whether I would call this shade neon, but it is very bright.
I was surprised to find out that Orly Kaleidoscope eyes is unique in my collection! I expected it to be close to OPI Purple palazzo pants, but it definitely wasn't. There are shades out there that are more similar to Kaleidoscope eyes (like Essie's Baguette me not) but I don't own them.
Orly Tangerine Dream
I originally wasn't sure whether I wanted to pick up "Tangerine dream". If I wouldn't have picked up the entire collection, it would probably have been the first one that I would have skipped. When I saw it in the bottle, I wasn't convinced I would like it. On the nail, it is the big surprise of the collection. It is so bright! I also found that it made my hands look more tanned, so I'm always up for that. Orly tangerine dream covered in three coats.
My camera definitely freaked out when I wanted to take the comparison shot of this shade. In the picture above, it might look like Essie serial shopper, Essie love-all game, and Orly tangerine dream are very similar, but they are not. Serial shopper and love-all game are less yellow and less bright than Tangerine dream. I didn't include China Glaze Flip flop fantasy in the picture above (because it made my camera freak out even more), but it is probably the closest shade I have to Tangerine dream. Tangerine dream is more yellow, and Flip flop fantasy is pinker, but they are both very bright.
Orly Synthethic Symphony
The last shade of the collection, Orly synthetic symphony. I would classify this as a blurple (blue+purple) crème. I'm not entirely sure if I would personally call this a neon, but it is very bright. I'm happy to report that Orly synthetic symphony doesn't have that horrible smell that some other blurples have (ahum ** Essie All access pass ** ahem). For most people on Instagram this shade seemed to cover in two coats. I had to use three coats, since I had some bald spots on some nails.
Orly Synthetic symphony leans a bit more purple than other blurple shades that I own. Essie Serving looks (from the new Have a ball collection) is lighter than both all access pass and synthetic symphony and dries to a semi-matte finish. Essie all access pass is the darkest and bluest of these shades. I actually was surprised that the formula of All access pass was pretty awful compared to Synthetic symphony and Serving looks. I'm not sure whether that is because the shade is from 2015, or that it was always that way. I also don't mention that during my initial review of All access pass (over here), but I would definitely recommend skipping it and picking up Synthetic symphony or Serving looks instead. (Update: I looked into the original review of Karen (aka Manigeek) on Imabeautygeek.com, and apparently all access pass always had a horrible formula)
The new European bottles?
When I purchased this new Orly collection, I noticed that Orly's base and topcoat, and the 2021 collections were a lot cheaper than previous Orly collections. When I received the bottles, I saw that Orly changed their bottles here in Europe from the regular 18 mL to 11 mL. I asked around on Instagram, and other people in Europe said that they saw the same thing happening in their country. I personally was positively surprised, since Orly is now in the same price range as Essie over here making it more accessible. However, most people on my Instagram responded that they didn't appreciate the change. (Just for the record: as far as I know, this change is Europe only, so for my Canadian and US readers: everything stays the same for you).
The cap of the new Orly bottle is still rubberized like the 18 mL bottle, but it is only much smaller. It seems to be identical to the cap used for Orly Color Amp'd shades. However, my Color Amp'd shades have the same brush as regular Orly shades, the brush in my smaller Orly bottle is much shorter.
My final opinion
I definitely love this collection! It is a welcome addition to the neon shades I already have, and some shades, like "Kaleidoscope eyes" are very unique. Although Neon paradise required four coats, the other shades had good formulas, especially compared to other neons I have in my collection. If you're looking to expand your neon nail polish stash, or you're just looking for bright summer colors, this collection is for you!
I also did a wear test with these shades, since other neon polishes chip quite easily on me. When I wore these shades with the Orly Bonder basecoat and Orly Epix sealcoat, I got an average wear of 3 days. When I tried wearing them with Essie strong start and Essie Speedsetter, I got an average wear without chipping of 7 days. In hindsight, I think it is quite silly of me to use the Orly Epix sealcoat, since this topcoat is specifically designed for the Orly Epix polishes. In comparison, OPI and Essie polishes normally last around 5 days on my nails, so I would say that if you combine these shades with a good topcoat, they are very long lasting.
Over here in the Netherlands, I purchased the entire collection from Douglas, since they have regular sales that include Orly. In the US I have spotted these shades at Beyond polish (affiliate link) and Amazon (affiliate link), but I'm pretty sure other stores will have them too!
Disclosure: This post contains affiliate links, meaning that if you buy a product through one of these links, I might receive compensation at no additional cost to you. I label all affiliate links with the label "affiliate link". As an Amazon affiliate, I earn from qualifying purchases.