Today it's time for a collection I'm literally always excited about: Essie's Midsummer collection! The shades of this collection are always so extremely nice and cheerful. I only picked up two shades this year, but I might pick up more since they are incredible!
Before I get into the swatches of the Essie Midsummer 2022 collection, I feel like I need to do some explaining. This collection is released in Europe as the Midsummer 2022 'Rose to the occasion' collection. It consists of six new colors. However, back in March this collection was released as a CVS-exclusive collection in the US and was called 'Hostess with the mostess'. The only difference between these two collections is that the brown shade called 'Centerpiece of attention' in the US collection was switched for a green shade called Dance till dessert in the European collection.
I won't lie, when I first saw swatches of this collection, I didn't like the colors at all. However, this collection quite grew on me, especially when they switched the brown Centerpiece of attention for the green Dance till dessert. I only picked up Dance till dessert and Blooming friendships for now, but the others are actually really nice too.
Essie Dance till dessert
Dance till dessert was the big mystery of the collection. I have no clue why they swapped Centerpiece of attention with this one in Europe, but I'm glad they did. I think in almost every midsummer collection there has been a green, so I'm happy that they continue this tradition. There is no good way to describe Dance till dessert. I would probably say that it's a medium green with cool undertones (as opposed to all the greens with yellow undertones that we keep getting). I really enjoyed this color, and it combined really nicely with other colors.
The formula was very nice, most nails were OK after two coats, but some needed a third coat.
I knew I had nothing like Dance till dessert when I first saw it, but I thought Essie Vested interest could be close. Vested interest is definitely in the same color family, but a lot darker. Orly Sagebrush is again even darker than Essie Vested interest, but also kind of in the same color range. Essie Bon boy-age is lighter than Dance till dessert and is also not a dupe.
I've gotten a lot of questions about whether Jade it happen from the Crystal clear intentions trio. I hope to get my hands on Jade it happen soon, but from pictures I think Dance till dessert is darker than Jade it happen. I thought a long time about other US Essie shades that could be close to Dance till dessert, but, honestly, nothing else comes to mind.
Essie Blooming friendships
The second shade I picked up is Blooming friendships. Blooming friendships is described by Essie as a sky blue nail polish, and I couldn't agree more! This shade is so pretty. If I would be on Essie's team, I would put a shade like this in every single Essie summer and spring collection. The color looks a bit washed out in my pictures, but it's a bit more of an intense blue. Really recommend this shade!
Light blues do not always have the best formula, but this one is definitely an exception. Some nails were already opaque with two coats, some nails needed a third coat. But overall, it was super easy to apply!
The closest shade I own to Blooming friendships is probably Strike a pose-itano. I know strike a pose-itano can be difficult to find, so that's good news! Strike a pose-itano contains a bit more green and is a bit more muted/grey than Blooming friendships. I think both shades have their charm, and I love them both.
Blossom dandy and Mint candy apple contain a lot more green than Blooming friendships.
Of course, I have more shades to compare. Essie Blue-la-la is the only other sky blue Essie that I own. However, you can already see that Essie Blooming friendships contains more green. Blue-la-la is also a bit darker in real life. Essie Find me an oasis on the other hand is a lot lighter than Blooming friendships, but also contains more purple. Finally, Pic-nic of time contains also a lot more purple.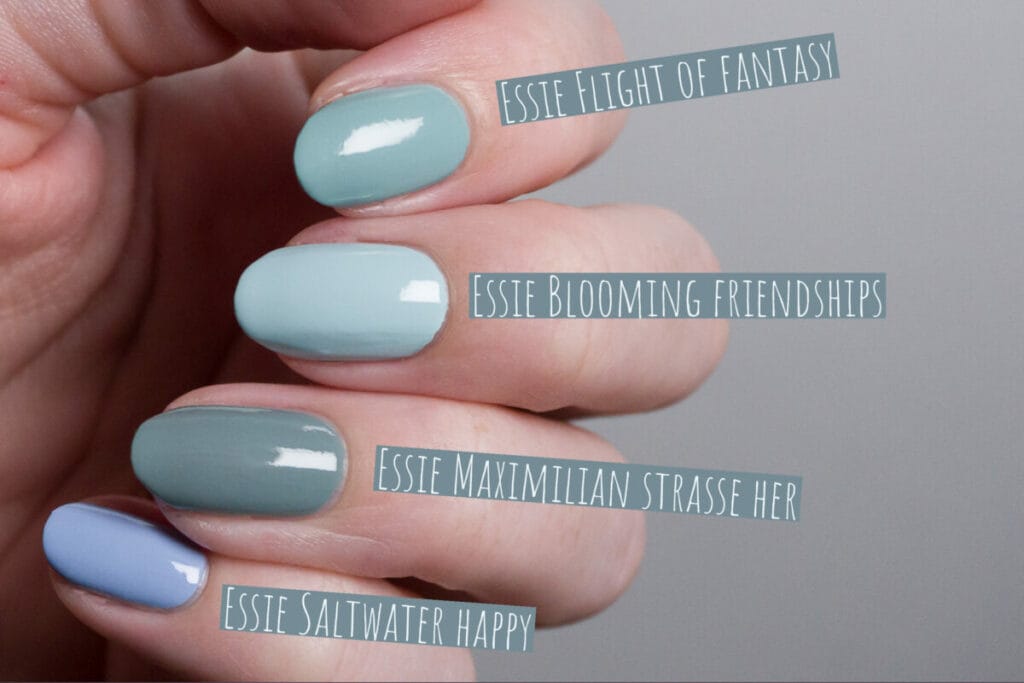 On Instagram, I got the question to compare Flight of fantasy from the spring 2022 collection to Essie Blooming friendships. It's actually closer than I initially thought. Flight of fantasy contains a bit more green and is a bit darker. They are not dupes, but they definitely combine nicely. Maximilian Strasse her is clearly a lot darker and more grey. Essie Saltwater happy is a more purple-based blue.
I do not own the famous Essie 'Borrowed and blue'. At least here in Europe, it seems to be discontinued and difficult to find. I have the feeling that it might be close to Blooming friendships though. So if you're looking for a replacement, Blooming friendships might be a good option!
Conclusion & Availability
I really do love these two shades, and I kind of regret not picking up more of this collection. I'm very happy that we got a blue-toned green here in Europe because it seems like those greens are always removed from collections over here. Also, the formulas of both these shades were really good.
The midsummer collections are usually not super easy to find. In the US this collection was already released as the CVS-exclusive Hostess with the mostess collection, and was already difficult to find from the start. In Europe, the midsummer collection has been released in Scandinavia, France, Spain and Greece, and a bunch of other countries, but it might only be available at specific stores. I've bought it myself from Lyko, but I've also found it on Amazon.fr. In Germany, the collection will be available by the end of June at DM (and maybe other stores). If you're living in the US, and really want the green 'Dance till dessert', I saw that Nelly.com has it and ships to the US, but it's quite expensive. The easiest solution is probably to find a European friend that is willing to ship it to you!