I never could have dreamt that I would be able to share this collection already with you! Somehow I was able to get my hands on it very early on. It was a bit of a gamble to buy the complete collection since there were no swatches of this collection available when I ordered it! But everything is fine, this collection is great! It was literally snowing this morning, so it feels a bit weird to be writing about a summer collection, but the colors are so happy and cheerful, they definitely made my day. I already saw myself lying on the beach of some faraway tropical island. I've also included some comparisons with other Essie shades in my collections, so if you happen to also own a lot of Essie, you know how they are going to compare to other shades! Let's get into the swatches.
Essie Feelin' just lime
When I saw the promo material of Feelin' just lime, I wasn't sure what to expect. Would it be a neon green, a jelly, or just a regular green shade? I would say that at the first coat, Feelin' just lime seems to be a jelly, but it covers perfectly in two coats like regular creme. It's a bright shade, but it is definitely not neon nor does it dry matte. Feelin' just lime applies like butter, it was so incredibly easy to apply! Someone on my Instagram commented that it looked like Kermit the frog. I laughed so hard, but it is definitely a good description of this shade. I personally definitely like to wear it during those warmer days of summer, so I am sure I am going to enjoy it!
I honestly couldn't wait to find out how Feelin' just lime compared to my other Essie greens. I recently picked up Come on clover, and I am a huge fan of On the roadie. I would say On the roadie is the closest to Feelin' just lime, but it contains more blue. Essie come on clover obviously contains more yellow and Vices versa is more of a neon. I would say that Feelin' just lime is the most neutral green (does that make any sense ;)?
You can find Feelin' just lime over here on Amazon (affiliate link).
Essie Pucker up
Pucker up was a surprise favorite. I feel like Essie has done shades like this (Miami nice comes to mind), and I'm pretty sure that OPI 15 minutes of flame is also similar. However, I do not own any other shimmery pinks, so I am just in love! Pucker up is a bit of a warmer pink, it leans a bit coral, and is super bright. The shimmer is a lighter pink than the base, which gives a gorgeous flare. This shade is almost opaque in one coat, but I used two coats to make sure it was completely opaque.
At first, I did not want to include this comparison shot. It is quite obvious that Pucker up is very different from all these shades in my collection. I would say that Peach daiquiri is a bit close, but the shimmers in pucker up make it look completely different from peach daiquiri. No dupes here!
You can find Pucker up over here on Amazon (affiliate link).
Essie Zest has yet to come
Zest has yet to come was another one I couldn't find swatches of before I picked it up. This was definitely a gamble! Essie describes it as a dirty yellow with pearl shimmer, and I would say that is pretty accurate. Because of the shimmer, it almost looks like yellow gold. I personally definitely like it, but I know this type of yellow nail polish is not for everyone. Someone on my Instagram described it as "interesting", and that's definitely an accurate description, and not necessarily in a bad way.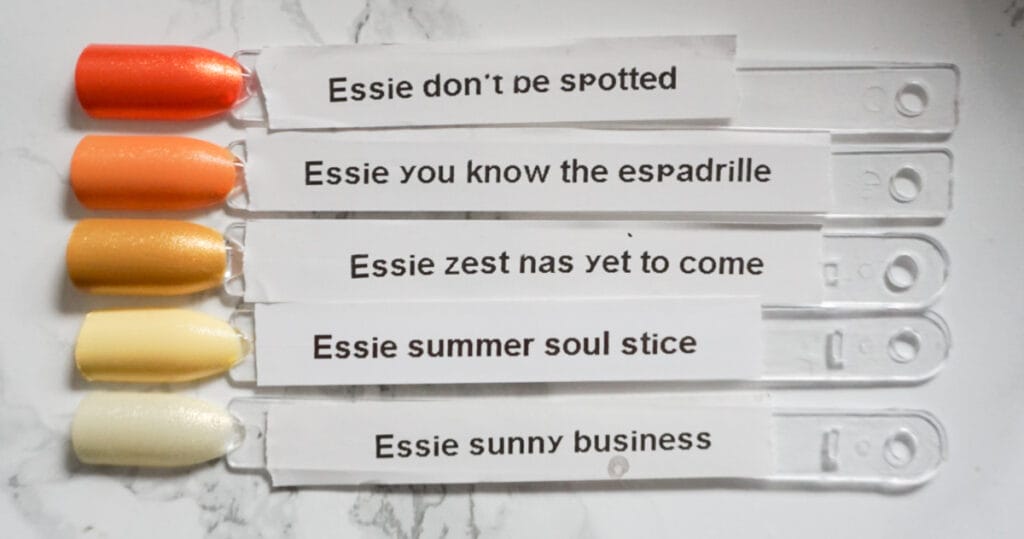 It is not that surprising that none of my other Essie yellows is close to Zest has yet to come. I had expected You know the espadrille to be close, but honestly, it is just too orange. I was also curious how it would be compared to Essie Sunny Business since that's the only other shimmery Essie yellow I own. However, Sunny Business is much lighter and sheerer. Zest has yet to come is just very unique. It is probably not for everyone, but I definitely liked it!
You can find Zest has yet to come over here on Amazon (affiliate link).
Essie Get your grove on
I usually tend to avoid gold/silver shades. I usually don't enjoy them and I find that they all look similar. However, I was drawn to Get your grove on and decided to pick it up. This shade is definitely not your average gold chrome nail polish. It seems to consist of thousands of tiny gold sparkles, which will especially be annoying when you try to remove this shade. The formula was very good, and it covered easily in two coats. I definitely recommend Get your grove on if you don't have anything similar, and are looking for a great gold nail polish.
I immediately collected all my other gold Essie polishes in my collection. Essie Leggy legend is obviously more bronze than Get your grove on, however I was surprised that they are still quite similar. I thought Get your grove on would be similar to Essie Getting Groovy. However, getting groovy is just much paler more of a silver-gold instead of a pure gold. For the form, I also included Zest has yet to come in this comparison. As you can see, the color is just much more yellow.
A couple of days before I ordered Get your grove on, I saw the color Million miles hue on sale. I definitely regret now not picking it up, because I would have loved to compare it to get your grove on. My guess is that Million miles hue is a bit more yellow than get your grove on.
You can find Get your grove on over here on Amazon (affiliate link).
Essie Juicy details
Just a little disclaimer before I start to talk about Juicy details: my camera couldn't capture this shade accurately. The shade is closer to the picture you see at the bottom of this post (the collage). I was surprised when I first got my hands on Juicy details, but it was a good surprise since I really love how this shade looks in real life. It reminds me of a pool or a nice tropical sea. Juicy details is also unique in my collection, so I couldn't be happier. The only downside: it is so pigmented that you definitely need one (or two) layers of basecoat, and you need to be very careful when you remove this shade.
This is probably the saddest comparison picture I have ever taken. I don't hate blue on my nails, but I somehow just don't own them. When Juicy details arrived I immediately knew I wanted to compare it to Mezmerised. Mezmerised is much darker of ablue than Juicy details. It also has some dustiness to it, which Juicy details lacks.
You can find Juicy details over here on Amazon (affiliate link).
Essie Tangerine tease
I am usually not that big of an orange nail polish fan, but I wanted to give Tangerine tease a shot. It definitely does not disappoint. Tangerine tease is very very bright, but not a neon! Again, this shade was so easy to apply and it required two coats for complete opacity. The consistency is very similar to Feelin' just lime and Juicy details, meaning that it seems to be a jelly at the first coat, but at the second it looks like a creme.
I would say that compared to other shades I own, Serial shopper is probably closest to Tangerine tease. Serial shopper is more coral, lighter and brighter than tangerine tease. The other shades are honestly just too different from Tangerine tease!
You can find tangerine tease over here on Amazon (affiliate link).
Overall conclusion
I originally found the Summer 2021 limited edition a bit of an incoherent collection. Usually, the shades of Essie collections combine nicely, but I wasn't immediately convinced by this color palette. However, seeing them together and trying them all, I can honestly say that this is really a cheerful collection, and I definitely see myself wear these shades a lot in summer. The formulas of each of these shades are just perfect, so you can't go wrong!