Since I do not have any of the Essie Spring 2022 collections yet, I thought I would continue reviewing old collections. Today it's time for the Spring 2004 'Madison Avenue' collection. Sadly, I only own four shades of this collection, but the good news is that three of them are still available today!
This is the official description that I was able to find on the old Essie website using the Wayback machine:
ESSIE SPRINGS TO LIFE ON MADISON AVENUE! Home to the best fashion has to offer, New York's finest food, quaint café's and one-of-a-kind designer boutiques, it's no wonder Manhattan's prestigiously chic upper east side inspired Essie's Spring 2004 Madison Avenue Collection.

"Spring 04' is a spectacular fashion feast! The runways from New York, London, Milan, & Paris offered pretty-as-a-picture fresh looks and enough dresses to fill up a party-hoppers closet for months! Colour-mixing bright, eccentric extras and cheerful motifs is the colour story for spring. Natural, classic, and elegantly neutral nails complemented the vibrant colours pouring down the catwalks. Crisp, clean, sheer romantic pastels are the must-have accessories for Spring. There is no shortage of colour contrasts combining a touch of nostalgic glamour with updated and tempting sweet fashions."

–

Essie Weingarten, Founder, Essie Cosmetics, Ltd

, February 2004,

https://web.archive.org/web/20040211000004/http://www.essie.com/whatsnew/index.php?sub=collections
I think it's pretty clear that Essie was inspired by the latest fashion trends of that moment. I was 11 when this collection was released, and I don't really remember a lot of nail polish collections back then, but I do remember that most models always had sheer polish on their nails. Although it doesn't say the name of the collection in the description, on the display the title of the collection was 'Madison Av', which is pretty funny especially if you remember that the Spring collection before this one was inspired by Central Park.
The original description of the shades in the collection is:
Chic boutique (English rose)
Limo-scene (Hybrid tulips)
Pink Diamond (Frosted true pink)
Power lunch (Dendrobium Orchids)
Shop till I drop (Iced tea)
Sugar daddy (Rosebuds)
The original descriptions of these shades just make me laugh, it absolutely doesn't tell you anything about the shades (except for maybe Pink diamond). Pretty much all of these shades are sheer. The ones that I do not own are Power lunch and Chic boutique. Power lunch is an orange/pink sheer polish with tiny glitter, and I'm actually not really sure about Chic boutique. Chic boutique might have been an opaque nude/pink creme, but I'm actually not sure.
Essie Shop till I drop
Shop till I drop has possibly the worst Essie description that I have ever seen. Just 'Iced tea'. So I will provide you with a better description: it's a sheer orange leaning coral. I'm wearing three coats in the picture, and the shade is still not opaque. With one coat the shade is not streaky, but because the shade is so orange, it looks like you have the worst discolored nails. I wonder how many people have picked this shade up thinking they were buying a coral creme? If you're more creative than me, you could definitely use this shade for some awesome nail art!
Essie Pink Diamond
Essie Pink diamond is still around in Essie's permanent collection. It's a frosty pink metallic. I'm surprised that this shade was released in 2004 and not earlier because this shade definitely gives me vintage vibes. I just quickly want to mention that this shade seems to have changed over time. I'm owning an older bottle which is a soft pink, more the Pink diamond that is sold today seems to be an intense pink. I'm wearing three coats in the picture, but you can also wear one coat for a sheer shimmery look. The polish is very difficult to apply with the smaller brush, but even with the larger brush, brushstrokes are unavoidable. I'm wondering whether the name 'Pink diamond' was inspired by JLo's engagement ring. Apparently, it was a big deal back then (which I totally missed because I was a kid that didn't care about JLo's rings).
I was very curious how Essie Pillow talk-the-talk would compare to Pink Diamond, because in my memory they would both look the same. Pillow talk is however much lighter and cooler-toned thank Pink diamond. Essie Polar-izing and Essie All daisy long are just completely different.
You can find Pink Diamond over here on Amazon (affiliate link).
Disclaimer: As an Amazon Associate, I earn from qualifying purchases.
Essie Limo – scene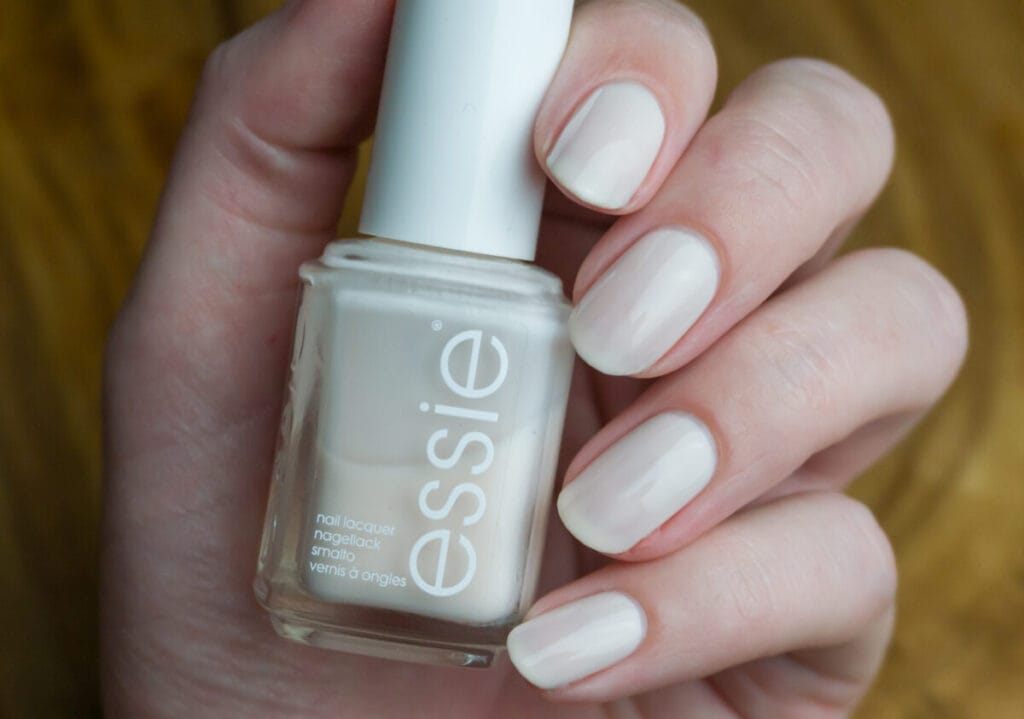 Limo-scene is a sheer white polish that is still in Essie's current collection. I kind of think of Limo-scene as the white Ballet slippers. It is not super sheer but also not completely opaque. With one coat, it doesn't look streaky, but with two and three coats it does. So I'm wearing four coats in the pictures. If you do not mind the streakiness, you can also wear fewer coats.
It's difficult to see, but Ballet slippers is pinker than Limo-scene, Mademoiselle is sheerer and my Marshmallow is much more opaque (although I've heard that different versions of Marshmallow exist). Not in the picture are Essie Waltz and Tuck it in my tux, which are whiter and brighter than Limo-scene.
You can still find Limo-scene over here on Amazon (affiliate link), but it seems like this shade has been discontinued in the US, it is however still available in Europe.
Essie Sugar daddy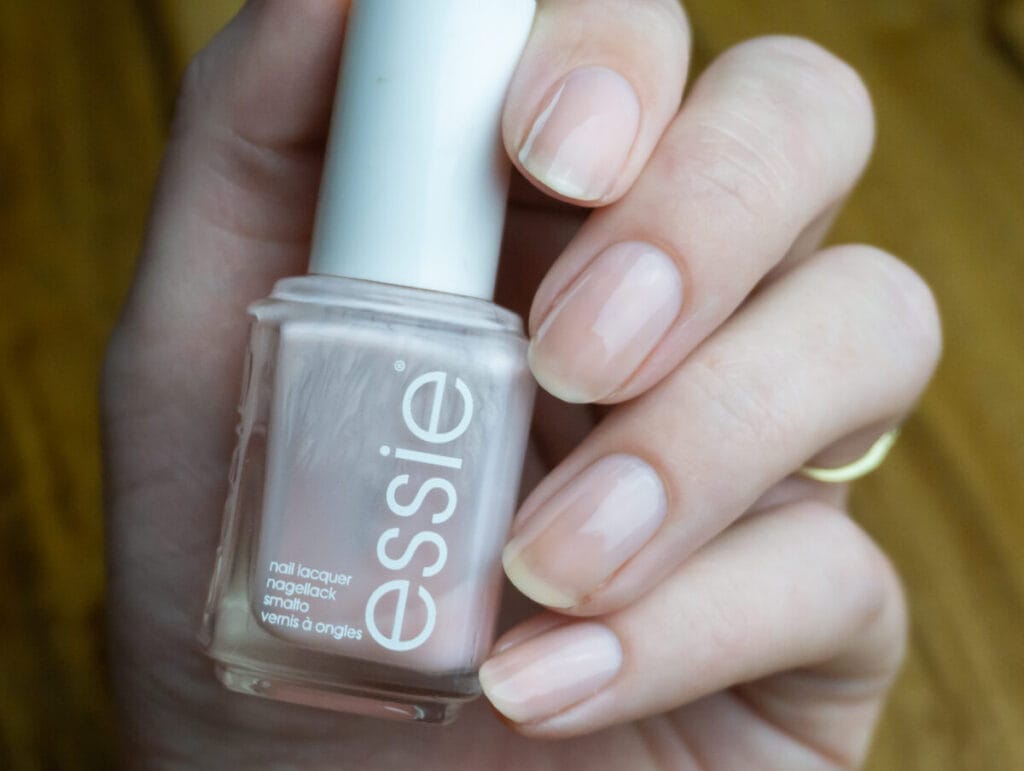 Essie Sugar Daddy was one of my first Essie's and used to be one of my favorite shades. At the first coat, it is almost like you're applying a clear coat of polish. With two coats you kind of start to see a smoothing effect, and with three coats you get what you see here in the pictures. You can do even more coats, but this shade will never reach opacity. Whenever I wear Sugar daddy, I fall in love with it again, but it does a terrible job when you want to hide slightly stained nails. Since I basically always have stained nails because of all the swatching that I'm doing, I sadly almost never wear Sugar daddy anymore. I also recently got a new mini bottle of Sugar daddy in my advent calendar and it's much pinker than this big 2014 bottle that I have. I'm not sure whether the color is 'updated' or that the color just changed.
Essie Sheer fantasy and Essie Gossamer Garments are both Essie Gel couture shades. Sheer Fantasy is a bit whiter and a tad more opaque than Sugar daddy. Gossamer garments is a bit cooler-toned but actually very similar to Sugar daddy. I know not everyone likes the name 'Sugar daddy', so Gossamer garments could be the perfect replacement. Essie Vanity Fairest is a different shade of pink, but also has some tiny shimmer.
You can find Sugar Daddy over here on Amazon (affiliate link).
Conclusion
The Essie Spring 2004 is maybe not the most exciting collection that Essie has ever released. But it has brought us a couple of very nice basic shades, that are still around today. I actually never realized that Sugar daddy, Limo-scene, and pink diamond were all from the same collection! Somewhere in my mind I still have the desire to go hunt for Chic boutique and Power lunch, but on the other hand, they both seem to be shades that should be pretty easy to dupe.