Today I'm showing you the last holographic polish from the Out of Space stories collection, called Beam me up! I was actually considering not buying Beam me up. Pink nail polish is just not for me, it's just too boring and normal. However, I'm very glad that I ended up buying Beam me up, because it is not like other pink polishes!
Beam me up is a pink linear holographic. Beam me up seems to contain a drop of purple, which I love! The polish really reminded me of the discontinued Hema polish 826, but when I came home I saw that the Hema polish was much darker. The holographic effect in beam me up is very subtle, it is even less visible than in We will spock you. On a cloudy day you probably won't be able to spot the rainbows, but when the sun hits the polish just right, the holographic effect is beautiful! In the picture below I'm trying to capture the last ray of sun to show you what I mean 😉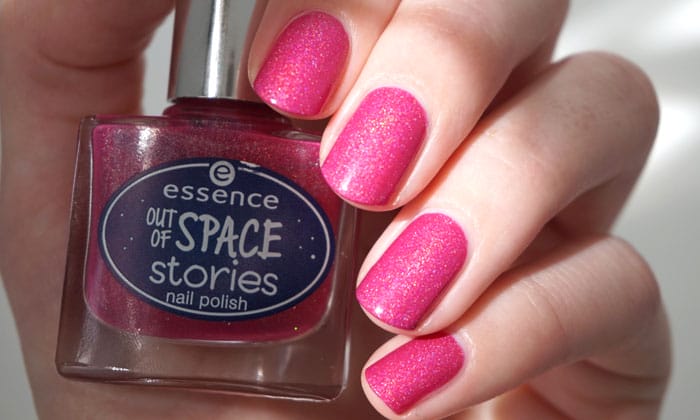 This polish was almost a one-coater, but I still saw some bald spots so I did two. I think that when you use one thick coat, you will definitely be able to make it opaque. The formula was super easy to work with and I also really like the brush in these polishes. I don't know what I need to say anymore, literally everything about this polish is great, I'm super excited!
Did I mention what this polish makes even more amazing? The price! I was able to buy it for only 1.99 euro! That's an amazing deal, because this is definitely an amazing polish. I have to admit, the holo is not as strong as some indie polishes but it is still definitely great for this price. I will even recommend this polish for people who don't like pinks, it's just too great 😉