When it comes to nail polish collections, I like to plan ahead. Sometimes I'm still surprised by an unexpected release (Essie Tie-dye, I am looking at you), but in general, I am well prepared. Do I think it is too soon for Fall and Halloween collections? Absolutely, it is only June! Am I still going to share the new Fall 2021 and Halloween 2021 by China Glaze? Also yes. If you're not ready to see these collections yet, I understand. Just forget about this post, and come back in September 😉
I was able to track these collections down because of an Instagram post of Brenda. She is always super quick when it comes to new collections. Starting from that post, I was able to find some more information online about these new two collections. The fall collection is called "Autumn Spice" and contains six new shades. The Halloween 2021 collection is going to be called Xtra stellar, and also consists of six shades
China glaze Autumn spice (Fall 2021)
So some of you might remember that last year China glaze didn't release a fall collection due to a global pandemic. They did already design a collection back then, called Autumn spice, but they just didn't produce it yet. I remember seeing pictures of it last year and being disappointed that that collection would never be released. Well, guess what! It is still going to be released this year! I am very glad about this because the collection is absolutely pretty!
This is what China glaze has to say about the collection:
Fall in love with 6 warm shades in spicy neutrals with pops of cranberry and nutmeg! This collection fulfills your passion for pumpkin spice and everything nice

China Glaze
The shades are called:
The snuggle is real (a neutral light brown)
Autumns up! (a dusty yellow)
Spice to meet you (a burnt orange creme)
Loves you a latte (a brown creme)
Modern Auburn (A wine red)
Love 'em and leaves 'em (A dark green with shimmer, although the flyer says loveS 'em and leaves em, on my bottle the shade is called love'em and leave 'em)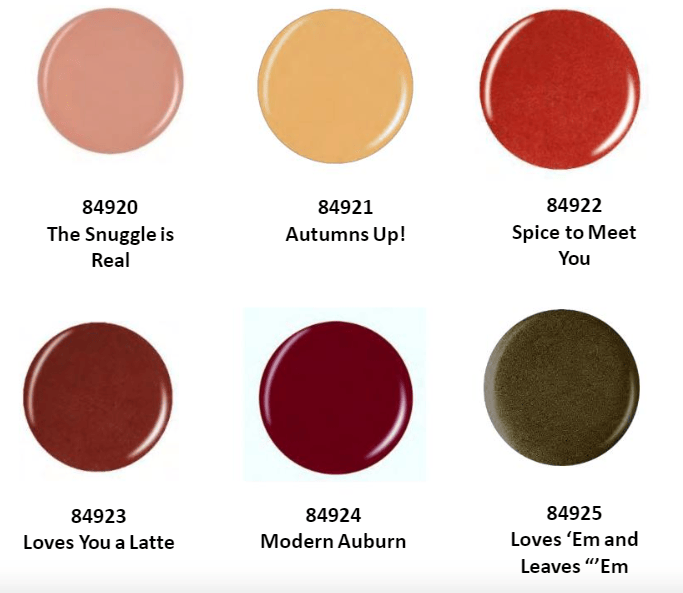 I am very enthusiastic about this collection! It looks so incredibly good! I hate that China glaze is becoming harder and harder to find over here because I am really in love with this collection! The inspiration is clear (warm sweaters, pumpkin-spiced coffee…), and I know that I will love it even more during fall!
Update: The Autumn Spice collection is now available on Beyond Polish over here (affiliate link), if you use my code NOAENAILS, you will get 5% discount on regular priced items. The collection is also over here on Amazon (affiliate link) and on Polish pick, where I ordered them myself. You can find my swatches of the collection over here.
Disclosure: This post contains affiliate links, meaning that if you buy a product through one of these links, I might receive compensation at no additional cost to you. I label all affiliate links with the label "affiliate link" in the remainder of this article. As an Amazon Associate, I earn from qualifying purchases.
China glaze Xtra stellar (Halloween 2021)
The new Halloween collection also consists of six new shades. This year, it seems to be inspired by galaxies/space. This is what china glaze has to say about it:
Travel into the unknown, where no one has dared to go before. Stunning futuristic finishes and color-shifting effects inspire you to create nail looks that are out of this world. How far will you take it?

China glaze
The shades are going to be:
Holee shift! (A silver to purple duochrome)
She's so extra terrestrial (Deep holographic cyan blue)
Purpletonium (A matte purple with shimmer)
little green invaders (A green/bronze duochrome)
now or nova (a red copper shimmer)
keep it realm (A deep blue red shimmer)
It is a bit difficult to see from the picture how this collection is going to turn out, but I am definitely very curious now!
The collection is available over here on Beyond polish now (affiliate link)! If you use my code NOAENAILS, you will get 5% discount on regular priced items. The collection is also available on Polish pick.
Conclusion/availability
And that's it, that's all I have. Of course, no one is selling these shades yet. I also don't know when these shades are going to be available, but my guess would be around the same time as the collections in 2019 (somewhere in August for some early stores). Again, I will try to keep this post up to date as much as I can, so as soon as these shades will be available, I will update this post. I am definitely curious to hear what you are thinking about both collections!