My picks from the China Glaze Jewels Royale Holiday 2021 collection came in, so it's time for some swatches! I was very excited about this collection when I saw the promo pictures, then I was a tiny bit disappointed by the first swatches, but now I am back to being excited! This collection is filled with glitters and special finishes, and is just very exciting!
A little recap before we dive into the swatches. The collection consists of 8 new colors. This is what China Glaze themselves has to say about the collection:
"Sparkle like a jewel. Lavish yourself with mesmerizing holiday hues that capture the brilliance of the most luxurious gems. Yule feel so loved and adored, who could ask for more?"

China Glaze
All 8 shades are:
24K Noir (a black with dark green/gold shimmer)
Glistening Pearls (A sheer pink glitter)
Ruby Riches (A red metallic with glassfleck shimmer)
Spoil me royal (A purple metallic)
Stay frosted (A light blue metallic)
Sapphire up! (A darker blue metallic with glassfleck shimmer)
Emerald Magic (A green glitter with red, gold and holographic shimmer)
Ice and bubbles (A textured champagne glitter)
I picked up all shades except for Glistening pearls and Stay frosted. Stay frosted was too frosty for me, and Glistening pearls was out of stock when I tried to order it. Nevertheless, I am very excited about the colors that I did end up getting!
China Glaze Spoil me royal
Spoil me royal is a purple metallic. In the bottle, it looks like a duochrome, but on the nail, it doesn't look like that. I was a tiny bit disappointed, but also a bit surprised because this color is super vibrant, it definitely reminds me of a gemstone. I did two coats for this picture, it was a bit challenging to apply this shade without streaks, but it dries down better than it looks when it is first applied.
24K Noir
'24K noir' is a blackened gold shimmer. To me, these shades always look a bit green, but because this shade is called 24K Noir, I'm pretty sure it is supposed to be black and gold. The shade reminds me of the color 'Love 'em and leaves 'em' from China glaze's Fall collection or Essie's 'High Voltage vinyl' from their fall collection. 24K Noir contains a bigger shimmer and is much more festive. I ended up doing two coats for this picture. You have to be a bit careful with the application because you can sometimes see some streaks. When you remove this shade, the tiny gold shimmer is going to stick everywhere, so it might be worth it to wear a peel-off basecoat under this one!
China Glaze Sapphire up!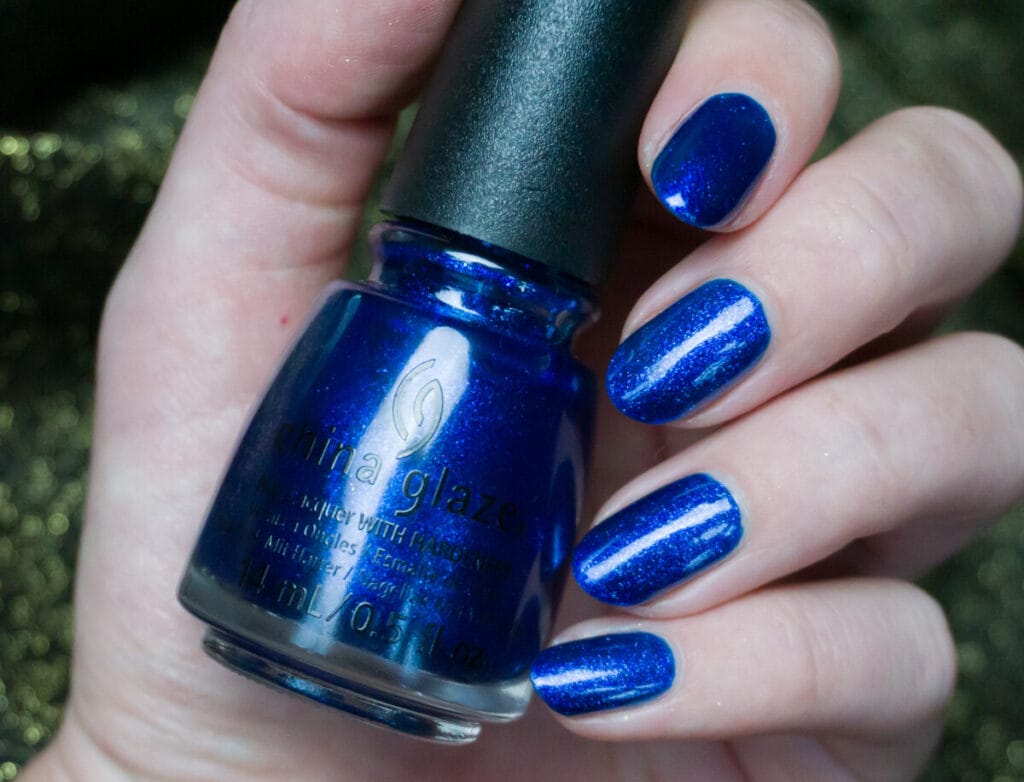 Move over 'Dorothy who', China Glaze's 'Sapphire up!' is here! I love this shade! It's very nice and shimmery. The base of this polish is jelly and it contains glassfleck shimmer. Because of the jelly base, I did one thinner coat than one thicker. Then it covers in two coats, but now I'm looking back at the pictures thinking I maybe should have done three. Anyway, super pretty polish and very unique nowadays. The polish dries completely smooth and the shimmer is very small. It doesn't give that 'I painted my nails using my child's nail polish'-look that some shades with larger glitter have.
Ruby Riches
Meet 'Ruby Riches'. I have heard that this polish was a nod to the famous China Glaze colors 'Ruby pumps', but I don't own that one nor was it officially confirmed. Ruby riches is very similar to Sapphire up! but the polish was a little bit more opaque and easier to apply. You will definitely only need two coats for this one. In the bottle it seems like this polish is filled with gold shimmer, on the nail, it doesn't seem to have a particular color but it is just really sparkly.
Ice & Bubbles
There is a lot going on 'Ice & Bubbles'. The polish seems to be a combination of silver and champagne, it is filled with holographic shimmer, but also with some blue and pink iridescent shimmer. The color is a bit sheer but mostly opaque in three coats. It dries a bit gritty, and I'm not sure whether that is on purpose or that it dries down this way because of all the glitter. If you want to smooth it out, you are probably going to need at least two coats of topcoat. It was an absolute pain to remove, so I would definitely recommend a peel-off basecoat with this one. To me, it's just the perfect shade for new year's eve!
Emerald Magic
Last but not least, Emerald Magic. I wonder whether this is again a nod to 'Emerald sparkle', the green version of Ruby pumps. Anyway, this shade is so gorgeous! Emerald Magic is a dark green jelly filled with red shimmer, gold shimmer, and holographic shimmer. The polish is a bit sheer and I had to use three coats to make it completely opaque. The three coats are definitely worth it though, because I have never seen a color like it before!
Conclusion and availability
I'm really impressed with the shades that I bought. I almost regret that I did not pick up the entire collection. This is definitely the most interesting China Glaze collection I have seen in a very long time. Some shades are a tiny bit more difficult to apply than just regular cremes, but I think it is worth the effort. I think this collection is together with the OPI Celebration collection, on top of my favorite collection list for holiday 2021!
I've picked the shades up from Polish Pick, but they are also available on Beyond Polish over here (affiliate link). Use code 'NOAENAILS' on Beyond Polish for 5% off regular-priced items
Disclosure: This post contains affiliate links, meaning that if you buy a product through one of these links, I might receive compensation at no additional cost to you. I label all affiliate links with the label "affiliate link".