With the holiday season around the corner, I always feel attracted again to red nail polish. I decided to go to my local drugstore to see which red Essie cremes they had in stock. I counted 11 red cremes in their classic bottles, but they even had more reds if you include the Gel Couture and Expressie shades. The store had horrible lighting, so it was impossible to see what the difference was between all the shades of red. My boyfriend standing next to me told me that there was zero difference between the shades. Although I usually disagree (there is always a difference) I had to admit that this time he could be right. I left the store disappointed without purchasing anything.
At home, I was able to find the classic shades they had in stock:
Even after googling all these shades, I wasn't able to find out what the exact differences were. Luckily for me, black Friday was around the corner. I was able to purchase all shades at a huge discount.
I thought that this core collection was kind of universal for all European drugstores, but when I researched the red shades in the German DM, I saw that in Germany 'Not red-y for bed', 'Spice it up' and, 'Lacquered up' are also part of Essie's core collection. After realizing this, I started to look at different chains of dutch drugstores, and I saw that in some stores 'Lacquered up' is also part of the Essie core collection in some drugstores. I didn't pick up these shades for now, because I saw no use in buying even more red shades. I might pick them up in the future though because I'm pretty curious how they will compare to the other shades I'm showing today.
After sharing the shades on Instagram, some followers also pointed out that some of these shades are unfortunately already discontinued in the US. I hope that my US readers will find this post helpful nevertheless. I will start by sharing all the individual swatches and my thoughts about them, then I will continue with the comparison. If you want to skip immediately to the comparisons, click here.
Essie Handmade with love
This is Essie's most recent addition to their red collection. The color was part of Essie's Handmade with love summer 2022 collection but will become part of Essie's permanent collection. The color is definitely the most orange out of all these shades, and I personally think of it as coral, but Essie has added it to their red section on their website. The shade is described as a 'bright coral red with blue undertones'.
The formula is very easy to work with, and I only had to use two coats for full opacity. You can find Handmade with love currently on Amazon over here (affiliate link).
Disclaimer: This blog post contains affiliate links. Meaning that if you buy a product through one of these links, I might receive compensation at no additional cost to you. I marked all affiliate links clearly with the label "affiliate link", all other links are regular links. As an Amazon Associate, I earn from qualifying purchases.
Essie Fifth Avenue
Essie's official description of Fifth avenue is: 'a creamy red orange blend lacquer'. If I keep Handmade with love and Fifth avenue next to each other, Handmade with love is definitely much more orange. The formula of Fifth avenue is amazing. It has a very nice creamy formula and is pretty much opaque in one coat on shorter nails (although I'm wearing two). It's definitely time that I buy a larger bottle of this! The shade is actually already an oldie, because it was first released as part of Essie's Spring 2003 'Central park' collection (you can find my swatches of that collection over here).
While researching this shade, I found out that Essie discontinued Fifth Avenue in the US! If you really want to own this shade, it might be time to plan a trip to Europe! I posted a complete review post of Fifth Avenue over here.
Essie Russian Roulette
This shade should still be available everywhere: 'Russian roulette'. Essie calls Russian roulette 'a fiery, exciting classic bright red cream polish with subtle orange undertones'. To me, Russian roulette looks like a neutral bright red with a bit of orange. The formula is not as creamy as Fifth avenue but more a jelly, it is, therefore, a bit less opaque. However, it was still very nice to apply. On my shorter nails, I needed two coats for full opacity, but on longer nails, you probably need three. This shade did stain my nails after I removed it, so doubling up on basecoat would be a good idea! In case you are wondering about Russian Roulette's original collection: Russian roulette is apparently so old that I couldn't even find the collection! It was probably released early 90's or late 80's.
This shade is still available over here on Amazon (affiliate link).
Essie Really red
Nope, this is not another picture of Russian roulette, this is a different polish. This is Essie 'Really red'. It is very similar to Russian roulette, but it is missing the orange undertone and is definitely more a neutral red. The formula is again a jelly. In the pictures, I am wearing two coats, but people with longer nails might need to use three coats. Again, this shade also stained my nails. Really red is even older than Russian roulette, it was part of the first 100 colors Essie ever released back in the 80's!
Upon investigating this shade, I found out that it is already discontinued, or might get discontinued soon in the US. There are still some bottles left over here on Amazon though (affiliate link).
Essie Aperitif
Essie calls 'Aperitif' an 'appetizing creamy red polish'. I had no clue what to expect. They don't mention anything about undertones, or whether it is a dark or lighter shade of red. Now that I have actually seen this shade and worn it, I can tell you that it is a slightly cooler toned red creme, that covers in two coats. It is a bit darker than Russian Roulette and Really red, but not a lot. The shade was opaque in two coats, but it also has a jelly formula, so if you have longer nails you might have to use three. The shade was originally released around the year 2000 in a drink-themed collection. Based on the number this color used to have in the US (362), I estimate that this color is from the Winter 1999 collection, which is indeed the drink-themed collection. Other shades in the collection all had drink-inspired names such as Cognac and Vermouth.
A reader on Instagram pointed out to me that this polish is actually very difficult to find in North America. It's still in production in Europe.
Essie Forever yummy
Essie calls 'Forever yummy' a creamy tango red lacquer. I must admit that before I was researching Essie's red shades for this review, I was never really paying attention to Forever yummy. I never really noticed this shade to be honest. Forever yummy is indeed a creme polish, and it is darker and cooler-toned than Aperitif and Russian roulette. Where Aperitif and Russian roulette had a more jelly formula, Forever yummy is definitely a creme. I know that Essie often includes it in Essie Christmas mini sets, and to be honest, Forever yummy is indeed a great Christmas red but I would be able to wear it any time of year. It is opaque in two coats on my nails and probably also for longer nails. Just a fun fact: Essie Forever yummy was originally released as 'Forever young' for fall 2008, this might explain the fact why I had never heard of Forever yummy!
Forever yummy should be easily available everywhere. It is for example available over here on Amazon (affiliate link).
Essie A list
Essie just calls 'a list' a "classic creamy red". Essie's description absolutely doesn't do this shade justice. The shade is a deep red with pink undertones, darker than Forever yummy but lighter than Bordeaux (coming up next). I had no clue about this before I saw the color in real life because on the website of my drugstore it looks more like Russian roulette. The color is a jelly, and therefore I had to do three coats to get the same color as in the bottle. In my opinion that's absolutely worth it though! It gives the shade a candied apple finish. I'm so glad I picked it up after all.
A list should be available everywhere. It is, for example, available over here on Amazon (affiliate link).
Essie Maki me happy
Essie Maki me happy is described as a "dark red nail polish". Maki me happy was released as part of Essie's Fall 2016 collection. It is part of Essie's permanent collection in Europe, but it is discontinued in North America. I must admit, I can understand why. Maki me happy looks a lot like A list. The shades are so close that they are very difficult to tell apart. Maki me happy leans a bit pinker than A list and is not a jelly, it lacks the juiciness of A list. In return you will get better coverage; it was opaque in only two coats.
Sadly, I wasn't able to find Maki me happy on Amazon anymore, but I think Essie A list is a good alternative (see above).
Essie Bordeaux
Essie Bordeaux is probably one of the first Essie shades that I purchased. I fell instantly in love with the color, it is dark, but never that dark that it looks black. Essie describes the color as 'a deep red wine'. It definitely leans a bit brown, but that's what I love Bordeaux. The formula is something we need to talk about. It's very jelly. The negative side of this is that the first two coats look very streaky, but when you get this polish completely opaque, it will have the same depth as a candied apple (similar to A list). I always curse this polish when I'm applying it, but I just love how it looks on the nail. But would I have been disappointed if this would have been my first Essie polish? Yes, maybe a bit. I needed three coats to get it to cover evenly. Bordeaux was apparently part of the first 100 shades that Essie ever released! Can you believe that it is still around?
Also, Bordeaux should be easily available everywhere, for example over here on Amazon (affiliate link) or over here on Beyond Polish (affiliate link).
Essie Wicked
Ahh, Wicked. I feel like this is such a famous Essie color. When I was just starting my nail polish journey, I thought that the name 'Wicked' belonged to the color that Bordeaux is. I was very surprised to find out that Wicked is very dark and almost black. However, if you keep it next to a true black shade like 'Licorice', you can indeed see that Wicked is a red. The formula is again a bit similar to Bordeaux. In the first two coats, you can see that the shade is red, but the color is very patchy. I definitely had to use three coats to even it out. I really love the end result, this type of almost-black color will always have a special place in my heart! Essie released Wicked in 1994, one year after the release of the movie Pulp fiction, which made almost-black-but-not-quite nail polish shades popular!
I had some trouble finding Wicked in a store myself (everybody seems to be hoarding this shade for Christmas), but it is still available on Amazon over here (affiliate link).
Essie Lieblingsmensch
Judging by the name and the lack of American Instagram posts about this shade, I'm going to say that this is a EU-only color. 'Lieblingsmensch' is simply described as a red on the German Essie website, but it definitely looks more like pink in my opinion. The formula was very easy and creamy and the shade covered well in two coats. The shade was released a couple of years ago, as an update to Essie's Celebrate moments collection. At least here in Europe, this collection is part of Essie's core collection in most stores.
This shade is probably very difficult to find in the US, however, in Europe, it should be easy.
Essie Nailed it
Essie 'Nailed it' is also part of the celebrate moments collection. However this one, as opposed to Lieblingsmensch, should be available internationally. On Essie's website, it is described as a 'deep burgundy red'. If it was up to me, I classified this shade as a berry, like "Bahama mama" and "Swing of things". For the sake of completeness, I swatched the shade anyway. The formula is very good, the shade is a creme and two coats were enough for complete opacity. This was the most liked shade out of all these reds on my Instagram, and I must say, I also really like it!
The shade is available over here on Amazon (affiliate link), but also over here on Beyond Polish (affiliate link).
Comparisons
I just pulled out the shades I thought were the closest and were the most difficult to tell apart. Reds are always super difficult to compare, so I hope you can forgive me if the comparisons are not 100 percent clear.
You can clearly see in this picture that Handmade with love contains a lot more orange than Fifth avenue. Keys to happiness (from Essie's Movin' and Groovin' collection) is very similar to Fifth avenue. Keys to happiness is currently still available, but it is a limited edition so I think it will sell out soon. If you're looking for a shade like Fifth avenue, it's definitely a good option. Toy to the world contains more pink and is definitely more on the coral side than Essie Handmade with love and Essie Fifth avenue.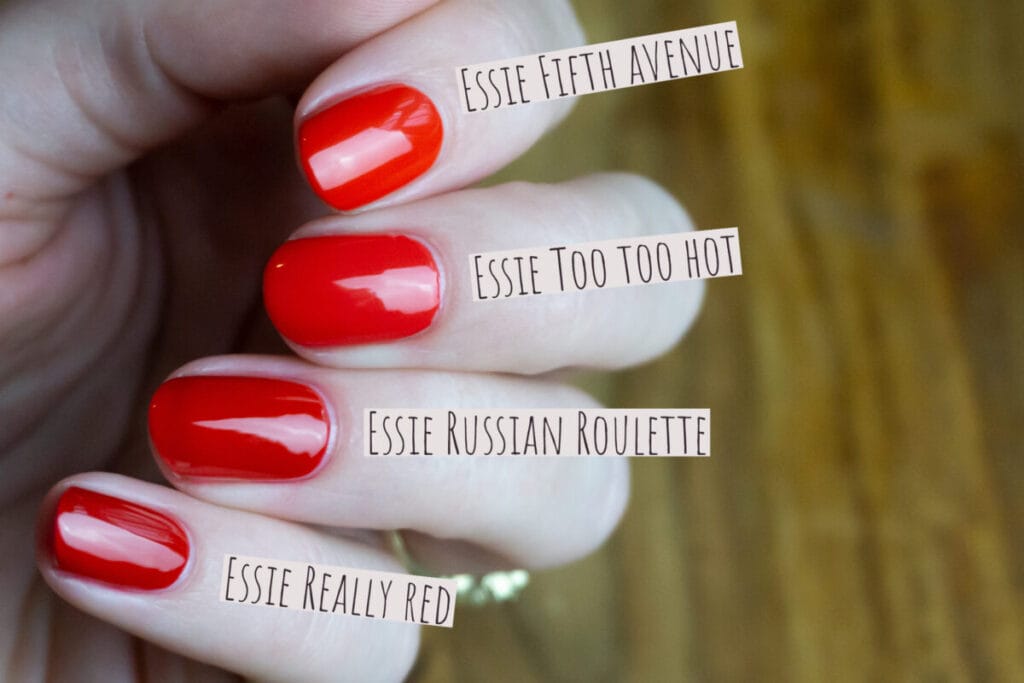 My camera did not pick up the differences between Essie Fifth avenue and Essie Too too hot very well: Essie Fifth avenue is definitely more orange while Too too hot contains more pink. Essie also officially classifies Too too hot as a coral and not as a red (hence why I didn't share it in this review). Essie Russian roulette is a shade darker but still leans a bit orange. Essie's Really red is a bit cooler and a bit darker than all the other shades.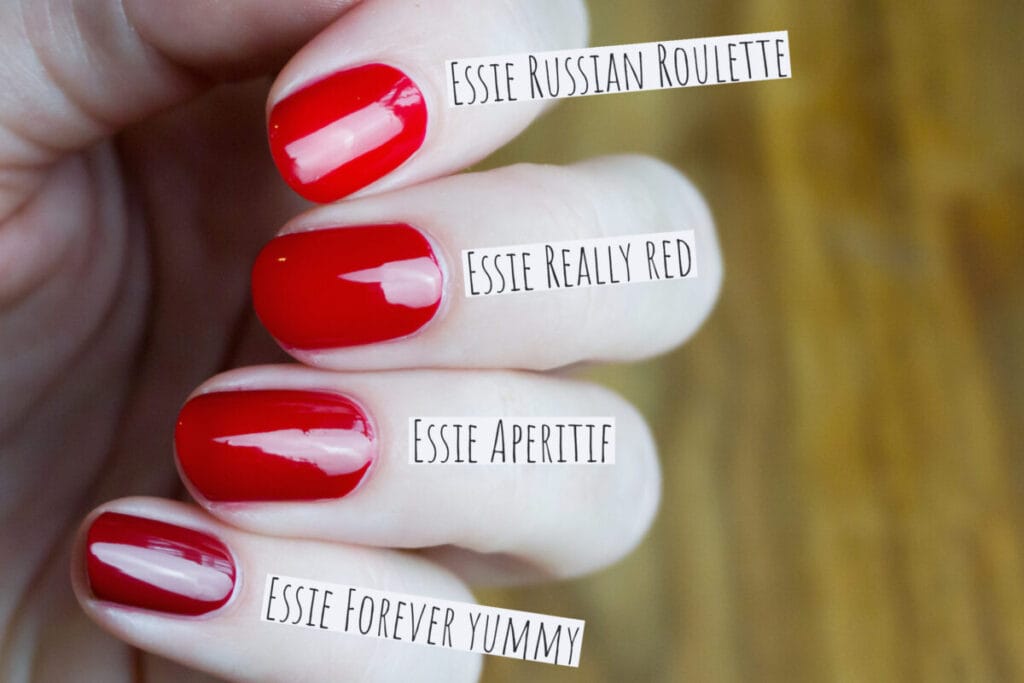 I was looking forward to this comparison the most, especially since I absolutely could not tell Really red and Aperitif apart when I did swatches on my entire hand. I must admit, I did see some differences in real life when I was doing this comparison, but they were very small. Russian Roulette was clearly lighter and more orange. Really red is a bit lighter than Aperitif, but it is really close. Forever yummy is clearly darker and does not have the translucency that the other shades have.
Finally, the comparison of the darker reds. Essie Forever yummy is the lightest of these shades. It's clearly lighter than Maki me happy and A list in real life. Essie Maki me happy and A list are super difficult to tell apart. Maki me happy contains a little bit more pink, but that's the only difference. In terms of opacity, Maki me happy is a bit more opaque, while A list has more of a jelly formula. Essie Bordeaux is clearly the darkest of the shades, darker than A list and Maki me happy.
Conclusion
Personally, I definitely found some new favorites while working on this comparison. I would have never picked up 'A list' and 'Nailed it', if it wasn't for this post, but I absolutely love them now. This post also reminded me of how much I love Wicked and Bordeaux, especially this time of year.
I'm a bit less excited about the trio 'Aperitif', 'Really red' and 'Russian roulette'. The Essie section in my drugstore is very limited, I don't understand why they added three shades that are this similar. I know that they are slightly different and that it is just a very popular color, but I rather had seen that they would have used the space to create a more diverse core collection. The same holds for 'A list' and 'Maki me happy', they are so similar that I don't understand that they have kept them both (although in the US this doesn't seem to be the case).
I'm a bit surprised with the colors my drugstore had, for some reason I was convinced 'Limited addiction' and 'Fishnet stockings' would be part of the core collection too, but apparently, they are not even available in the Netherlands. If you live somewhere (like the US), where these shades are available, you might consider those too if you're looking for a good red!
There are even more red shades in the Expressie and Gel couture collection. For now, I have skipped those, but I might add them in the future!