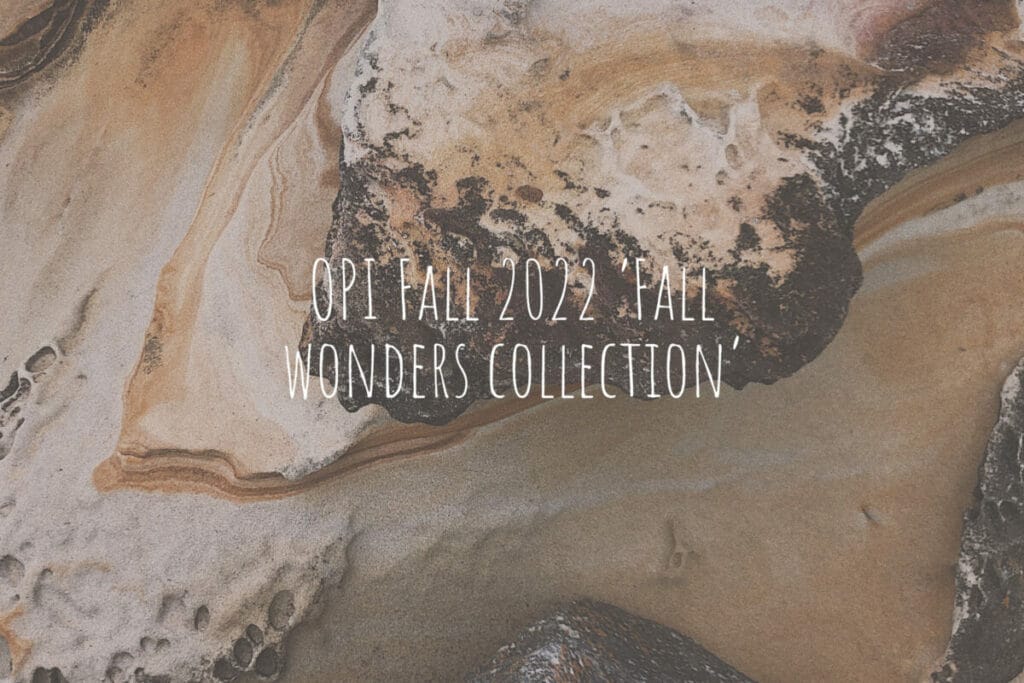 Apparently, it's time we move on to fall collections already. The first sneak peek I was able to find, is this one of the OPI Fall 2022 collection. The OPI Fall 2022 collection is going to be called 'Fall wonders' and will consist of 12 new shades with a down-to-earth color palette. The shades are inspired by the four elements of nature: fire, water, air, and earth. The idea behind using color to find harmony rests on the intuitive assumption that the earth's energy, through these elements, can calm, strengthen or motivate you whenever you need it (according to Jill Bartoshevich, OPI's global director of color).
The 12 new colors are going to be called:
Brown to earth (a creamy dark brown)
Cave the way (a black pearl)
Claydreaming (neutral creamy brown-purple)
Clean slate (dark metallic grey)
I mica be dream (A shimmering metallic gold)
Medi-take it all in (a balancing creamy purple)
Midnight mantra (a dark navy blue)
Ochre the moon (a warm creamy yellow)
Peace of mined (an earthy creamy mauve)
Red-veal your truth (a warm creamy red)
Rust & relaxation (warm creamy rust orange)
Suzi takes a sound bath (a down to earth blue shimmer)
The more I learn about this collection, the more I start to appreciate it. I think the collection doesn't have the exciting shimmers that OPI did the last couple of collections, but I think this color palette is extremely nice for fall. I'm mostly excited about 'Cave the way' and 'Ochre the moon', but also the colors 'Peace of mined' and 'Claydreaming' look very nice. Anyway, I personally can't wait for this collection!
There is not an official release date for this collection yet. However, I know from previous years, that the official release date of OPI's fall/winter collection is usually August 1st in the US. In Europe, the official release date has already been announced and is going to be August 15th (but it will also depend on the store).
Anyway, I will keep this page up to date with new information, so definitely try to check back!
Update: The shades are available on Amazon for pre-order, they will be released on the 1st of August! You can find them over here (affiliate link, also make sure to set your zip code to a US one!). They are also available on the Ulta website!
Disclaimer: As an Amazon Associate, I earn from qualifying purchases.