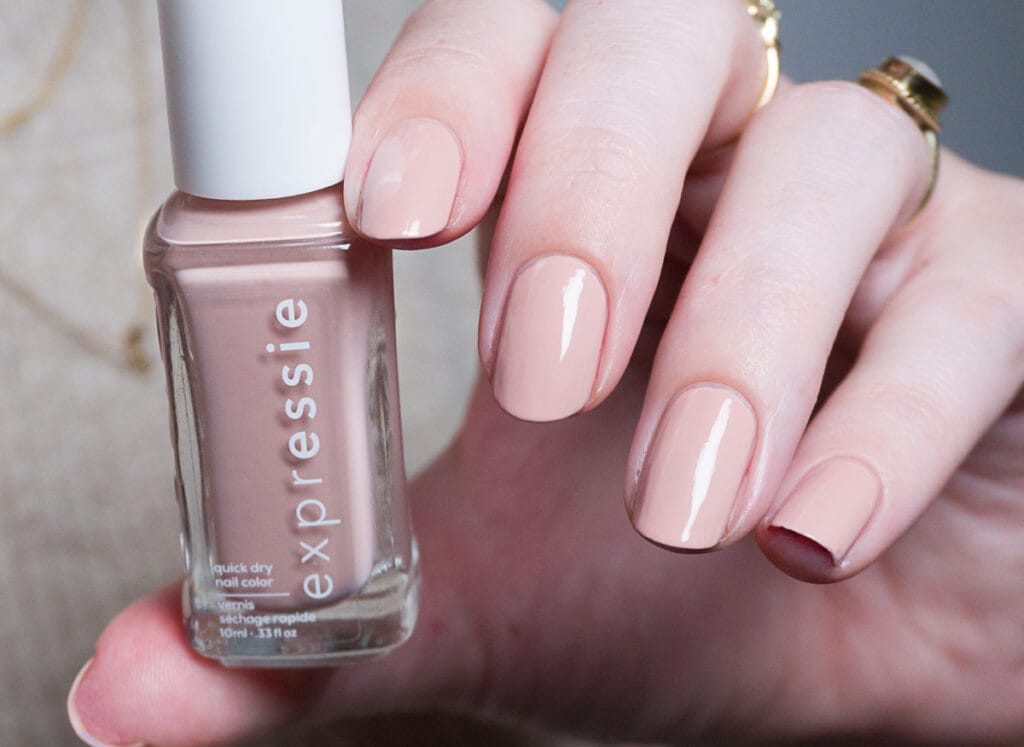 Essie Crop top and roll was one of the first shades I picked up from Essie's Expressie collection. To be precise, I picked it up in November 2020, after I had purchased Essie Precious cargo-go already. I expected a light pink, but what I got was a light neutral pinkish brown. I wore the shade immediately, but I didn't think it looked great on me. I think I might have even taken pictures, but I never posted them here or on my Instagram. Today, I'm finally giving Essie Crop top and roll a new chance!
Just in case you are not familiar with Essie's Expressie's line, you can read my thoughts on that line over here. It basically means that the polish comes in a longer bottle (because it's easier to hold on the go according to Essie, but it's also easier to knock the bottle over according to myself), the brush is angled (you might think that you got a faulty brush, but nope it's supposed to be this way), the polish is quick-drying and covers in two coats (both according to Essie, of course).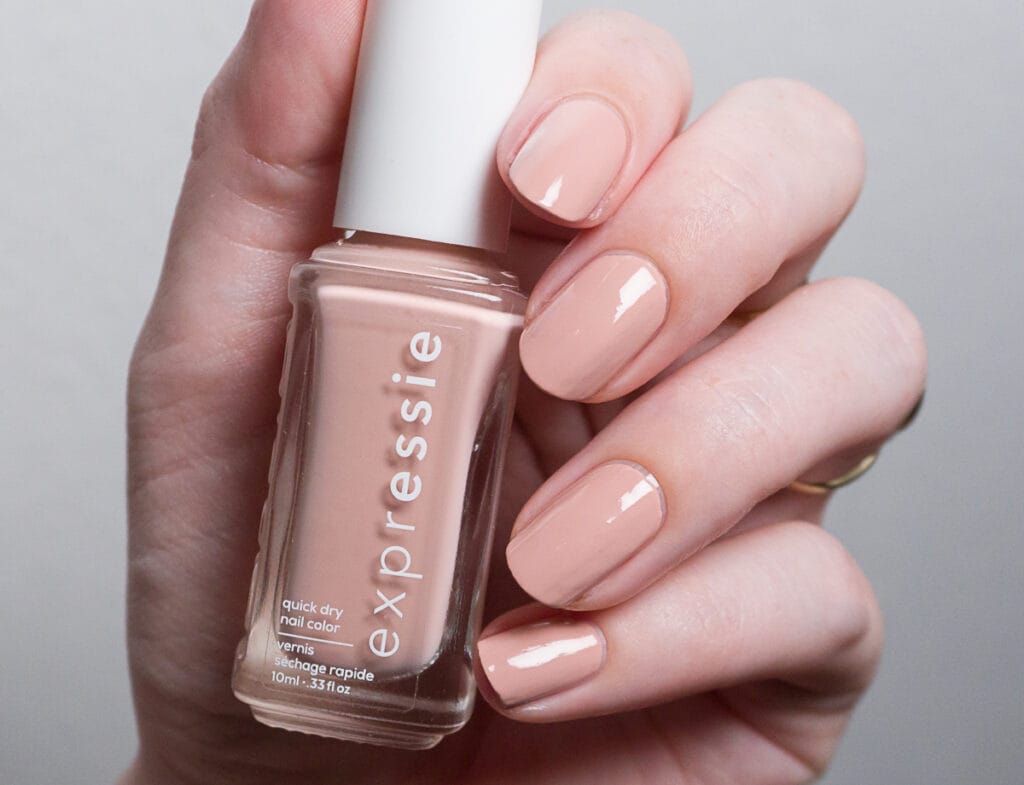 Crop top and roll was part of the original launch collection of Expressie and is both available in Europe and North America. Essie describes Crop top and roll as a soft pink beige. If I would have read this description before I would have purchased the shade, I maybe wouldn't be as surprised as I was. I'm wearing two coats in all of my pictures but after the pictures I applied a third coat, because the polish was still very patchy.
The polish was OK to apply with the angled brush, but I think I would have preferred the classic Essie brush. I do like the look of the polish now that I have a bit of a tan, but I absolutely hated it on myself when I first applied in the middle of winter. If you're looking for a polish that gives you 'mannequin' hands and you are as pale as mine, then this might be a good pick. However, I imagine that this polish will look fabulous on everyone with a darker skin tone than me (which is basically everyone).
Of course, I couldn't end this post without doing a comparison. Essie Crop top and roll and Essie Topless and Barefoot are pretty much dupes. Topless and Barefoot is a little bit lighter, but it's difficult to tell. If you like the color of Crop top and roll, but you don't like Essie's Expressie line, I would definitely recommend checking out Topless and Barefoot(it's still available). The other ones that I compared are not dupes, but just in the same color family. Essie Well-nested energy is lighter and more peachy. Essie Perennial Chic is more of a tan color.
Conclusion & availability
I'm not as enthusiastic about the shade as I thought I would be when I ordered Crop top and roll. However, it's definitely not a bad shade, especially if you're looking for a nice neutral that's not too dark. Also, if you already own Topless and barefoot, which is a pretty popular shade, you definitely won't need Crop top and roll.
Crop top and roll is still widely available both in North America and in Europe. You can find it for example over here on Amazon (affiliate link).
Disclaimer: As an Amazon Associate, I earn from qualifying purchases.