Swatches of Essie's Winter 2021 are here!!! No not from the 'Rumor jazz it' collection, but from that other one ('Toy to the world'). Although I was more excited about the Rumor jazz it collection, I got very curious when I saw that Essie's new winter collection was available. Of course, I ordered them and within three days the bottles arrived from Denmark at my doorstep. The bottle of 'All dolled up' had a bit of a rough time, but the polish is still fine, so who cares?
OK, a little recap in case you forgot. The collection is going to consist of 6 new shades. This is what Essie has to say about them:
"don't kid yourself… you're ready to get all dolled up and perfectly manicured for the holiday party circuit this year. the new essie limited edition winter 2021 collection has us taking a trip down memory lane to a toyland of our childhood dreams. discover six nostalgic, supercharged shades that tap into the magic of the holidays and the pure joy of being surrounded by your most memorable childhood gifts."

Essie
The collection has some shades that you would definitely expect in a winter collection, but also shades that are a bit… unexpected? I can see how they were going for a toy-themed collection, the more I look at this collection the more I start to like them. I will show them, and you can say in the comments what you think, OK?
Essie All dolled up
'All dolled up' is a cool-toned vibrant pink creme. Definitely not what you expect from a winter collection, right? At first, I was a bit annoyed about this, but then I actually opened the bottle and applied the shade to my nail. All I can tell you is that the formula is extremely nice. The shade covered in two coats, but in one it was already quite opaque. I'm actually very surprised by this shade!
Essie's Lovie dovie is closest to 'All dolled up', but lighter. Blossoms n' besties is warmer and Kissed by mist is lighter. I think Essie Forget me nots could possibly be a dupe, but I don't own that shade.
I got a ton of requests on Instagram whether I could compare 'All dolled up' to 'Mod square'. Mod square was never released in Europe, so I was already telling people I couldn't do a comparison. But through a strange coincidence, I was able to get a bottle anyway! The shade is a bit darker than All dolled up and a lot brighter. I've also added OPI's Suzi nails New Orleans, but that All dolled up is obviously much darker.
I thought I was done with the comparisons, but then I opened my package with OPI Holiday polishes! Quite fascinating that OPI also released a cool pink crème in their Holiday 2021 collection right? Big bow energy (holiday 2021) is a bit darker than Essie All dolled up and so is No turning back from pink street (Lisbon 2018).
Essie Jingle belle
'Jingle belle' is a silver shimmer. It is actually my first silver polish ever. It required two coats and is a tiny bit streaky, but not as streaky as it seems in the picture. I always avoided silver polish because of the streaks and the metallic finish that they had. Jingle belle seems to exist of a lot of tiny glitters instead of metallic shimmer, and I actually love it. And let's just be honest, a shade like this always works well towards the holidays. I got a few tips on Instagram to try this with a matte topcoat, so I will try that soon!
Although 'Jingle belle' was my first silver polish, I quickly expanded my collection. In the new 'Rumor jazz it' collection, there is also a new silver shade called 'All you ever beaded'. This shade is a bit lighter, contains larger shimmer particles, and is less streaky. I was lucky because my local TKmaxx had Empire shade of mind, and Essie Steel-ing the scene. Empire shade of mind is darker and has smaller shimmer particles compared to Jingle belle. Steel-ing the scene has warm undertones, also smaller shimmer particles, and still has the small Essie brush.
Essie Toy to the world
'Toy to the world' is a vibrant red-pink. It also doesn't seem like a standard Christmas color, although I see how it could work during Christmas. The formula of this polish is again extremely good. The polish was pretty much opaque in one coat, but I'm wearing two in the picture, just to make the color a little bit deeper.
Essie Éclair my love and Essie Toy to the world are definitely dupes. I couldn't see a difference in real life, and both shades have an awesome formula. 'Sunset sneaks' is a bit lighter and has a sheerer formula. 'OPI We seafood and eat it' is also a bit lighter in real life. To be honest, there are probably more shades out there that are very similar to 'Toy to the world', but Toy to the world itself has a very nice formula.
In this picture, I don't have any dupes, but you can easily see how Toy to the world compares to some other shades you might own. Essie Fifth avenue and Essie Color binge are both warmer (more orange) shades of red. OPI Short-stop could be family of Toy to the world, but is a little bit less bright.
Essie Don't kid yourself
'Don't kid yourself' is a shade I really didn't expect in a winter collection. Before I received it, I thought it might contain shimmer, or it might be toned down for winter. But literally nothing, this is a bright summer/spring color. Maybe if you celebrate Christmas in the Southern hemisphere, this one is for you! The formula is not that great as the other cremes. I'm wearing two coats, but I should have used three. I'm probably going to save this shade for spring/summer though.
I don't have any shades that are direct dupes for "Don't kid yourself". I do have a lot of shades that are similar but slightly different. Essie's Peach side babe is lighter and pinker. Essie love-all game and Essie check in to check out are more orange. I own many more coral shades, but I couldn't find one that exactly has this color.
Essie Lucite of reality
'Lucite of reality' is probably my favorite polish of the collection. It is a green with hints of blue. On its first coat, the shade is more watery than the other shades, but with two coats I obtained perfect coverage. I don't know what it is, but even looking at these pictures is pure love.
Update January 2022: It has been months, but I suddenly had an epiphany about this polish. Some of you might think I'm stupid, but for the other slow people out there: If you pronounce 'Lucite of reality', it actually sounds like "Loose sight of reality", which suddenly makes a lot more sense, since it is a toy-themed collection (and of course, some toys are made of lucite).
I basically pick up every polish that looks like Lucite of reality, so I have a lot to compare. OPI My studio's on spring is very similar to Lucite of reality, maybe a bit lighter. Field of dreams and Off tropic are both much greener.
Essie's Sating sister and Essie Go overboard are both a little bit too blue to be exact dupes, but let's be honest here, they are quite similar.
Glee-for-all
'Glee-for-all' is the last shade of the collection. It is a champagne shade filled with tons of shimmer. Sometimes Essie does this thing where you only see the shimmer in the bottle, but that's definitely not the case with this one. I literally mumbled 'Wow' when I was applying this shade.
I'm wearing three coats in the picture, but in hindsight, two coats also would have been enough (I wanted to try whether it changed the color). I think the color looks a little bit strange with my skin tone, but still, I love it. (Essie, maybe you can make this shade next year in different colors?) I think this shade will look awesome with darker skin tones, so I can't wait to see more swatches of this polish from different ladies!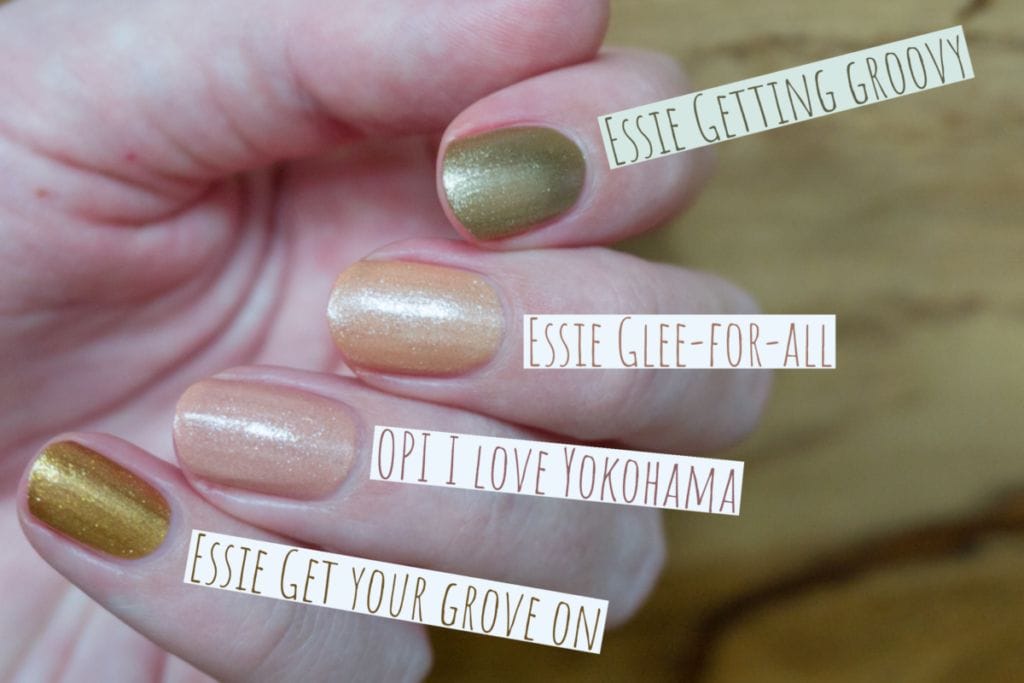 Obviously, I don't have any dupes for Essie Glee-for-all. OPI I love Yokohama does have the same type of shimmer, but the polish is pinker and sheerer. Getting Groovy and Get your grove on are obviously just very different types of shades.
Conclusion & Availability
OK, I'll admit, this collection is not your standard winter collection. But individually, I like all the shades. The toy theme is very cute for Christmas, but maybe a tiny bit cheesy. It's nice that we can recycle the shades for spring and summer, but I don't think I will reach for some of them during the holiday season.
I found it on Nice Beauty, but I think they were just really early this year. My guess is that this collection will be slowly released everywhere. If you're living in Europe; there will also be a second holiday collection called "Rumor jazz it".
In the US, the collection is available over here on Amazon (affiliate link) or on Beyond Polish over here (affiliate link). Use the code NOAENAILS on Beyond Polish for 5% off regular-priced items.
Disclosure: This post contains affiliate links, meaning that if you buy a product through one of these links, I might receive compensation at no additional cost to you. I label all affiliate links with the label "affiliate link". As an Amazon affiliate, I earn from qualifying purchases.