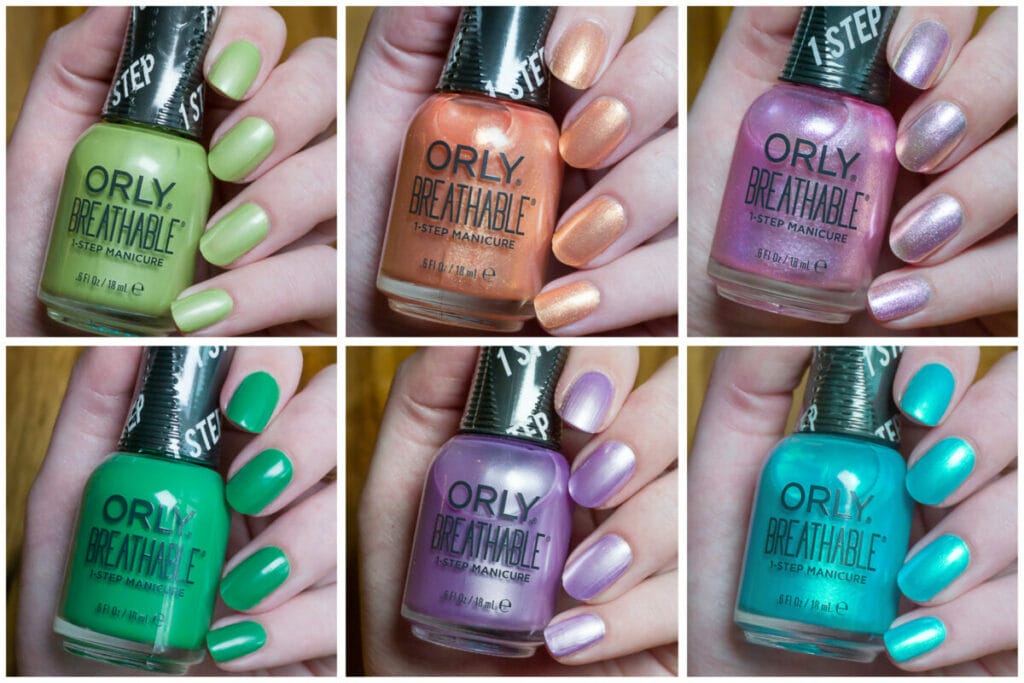 I'm back a lot faster than I anticipated. Today I have swatches of the Orly Island hopping collection for spring/summer 2022. I couldn't find any swatches myself, so I figured that I had to create them myself (I'm sure more swatches will pop up though, as this collection is being released). Just a short recap in case you missed my original post:
'Introducing Orly's Island Hopping 2022 Collection! Can't Jet Enough? Grab your passport to paradise and get ready for the Island Hopping adventure you've been craving. Shimmering blues and rich greens transport you to a lush, tropical isle. Watch as the iridescent peach and pink sunrise welcome you to a day spent basking in the sunbeams.'
The collection consists of six new shades; one creme, and five shimmers. I will show them all today!
Orly Surfs you right
What can I say? I love Surfs you right! I couldn't find an official description of these shades yet. I would call this an aqua blue duochrome. The shimmer seems to shift to green, which is super pretty. It reminds me of the ocean in a tropical destination (not the muddy sea that we have here in the Netherlands).
The only downside? This took me four coats! In my opinion, it's totally worth it, but I know that there are people who can't stand doing four coats. If you like a sheer look, you could try to get away with fewer coats, but I personally don't think it looked nice with this polish. You can also possibly apply it over another polish. I haven't tried it yet, but I think I will soon.
Just for the record: On a lot of websites the name is written as 'Surf's you right' but on my bottle the name is 'Surfs you right'.
Orly Frond of you
This is Orly frond of you, the only cream from the collection. I honestly think this is such a cute name for a green! I never know how to describe greens correctly, but I probably would say this one is a kelly green cream.
The formula of this shade is quite funny. The shade has a jelly formula but it dries matte. Even though it is a jelly, I only used two coats in the picture, but if you paint with very thin coats you will probably need three.
Frond of you immediately reminded me of Orly's plastic jungle from last year's summer collection. Already when I held the bottles close together I noticed that the shades were not even close. Plastic jungle is extremely bright and lighter than Frond of you. Essie On the roadie is sort of close to Frond of you, but not entirely the same. Also on the roadie dries glossy while Frond of you is matte.
Orly Just Squid-ing
This is Orly just squid-ing, a lilac/lavender pearl. I just know that a lot of you will think the name is lame, but I find it so cute. Obviously, Just Squid-ing is a pearl/frost. Usually, I hate this type of finish and I try to stay away as much as I can. But this one is just different, it's so cute! It totally gives me '00s vibes (I definitely owned a color like this back then!).
I'm wearing three coats in the picture. Due to the frosty finish, it dries a bit streaky. It didn't bother me too much because the color is so cute!
Orly Citrus got real
Again, this name is just too funny: 'Citrus got real'. I must admit that I have never seen a shade like this before. I would describe Citrus got real as an orange with a bit of pink with gold shimmer. It's pretty much the orange version of Surfs you right. It's like a highlighter for your face, but then for your nails.
The only downside is that Citrus got real is a bit sheer. I'm wearing three coats and on my longest nails (like my ring finger) you can still see my nail line. It's not that obvious in real life since the shimmer is super reflective, but I know that not everyone will like it!
Orly Can't jet enough
Can't jet enough is probably the most unique color in the collection. I have never seen anything like it before. The color is a pink but it is filled with iridescent shimmer that shifts from pink to lilac. It's just incredibly pretty. On the one hand it looks like a princess shade, but the multichrome shift looks so pretty. I haven't tried it over black, but I'm curious how it will look.
The only downside is, again, that the shade is quite sheer. I'm wearing four coats in the picture. In natural lighting (below), it looks quite opaque, but under my bright daylight lamp, you can definitely see the white of my nail. I personally think it fits the polish and I can also see myself wearing it sheer with one or two coats. But, again, I'm just warning you because I know it's not for everyone!
Orly Simply the zest
This shade is Simply the zest! Simply the zest is a lime green with a fine silver shimmer. Similar to Frond of you, it dries slightly matte. I thought I wasn't going to like this shade because it leans a bit yellow. But it turns out that I love it. This is also totally a shade I can see myself wearing on my toenails during summer!
I'm wearing three coats in the picture, but I almost did a fourth coat. I still saw some patchy spots, but it wasn't too bad. If you use slightly thicker coats than me, you should definitely be fine with three coats!
Conclusion & Availability
I like this collection even better than when I first saw the pictures. These shades are so much nicer in real life than any of the previews I had seen before. Some of the sheer finishes are not for everyone. I think the shades are suitable for layering, but I haven't tried it yet. Overall, I think this is a pretty unique collection, and I'm once again very impressed by Orly.
In case you have no clue why these shades are called 'Breathable': Orly claims it is a special formula that makes your nails 'breathe'. Of course, if you have a basic understanding of anatomy, you might be aware that nails don't 'breathe'. What Orly means is that these shades have some caring properties. This is the reason Orly claims that you don't need any base or topcoat when you use these shades. I must admit that I haven't worn these shades long enough to notice anything., but I'm always a bit skeptical about these types of products.
So when and where are these shades available? If you are like me living in the Netherlands: they are already available at Nagelproducten.nl. In the US, I have spotted them on the Walmart website over here. They will start shipping around the third of April. I also found the collection on Beyond Polish(affiliate link), but the shades are still out of stock.
Disclaimer: This blog post contains affiliate links. Meaning that if you buy a product through one of these links, I might receive compensation at no additional cost to you. I marked all affiliate links clearly with the label "affiliate link", all other links are regular links.